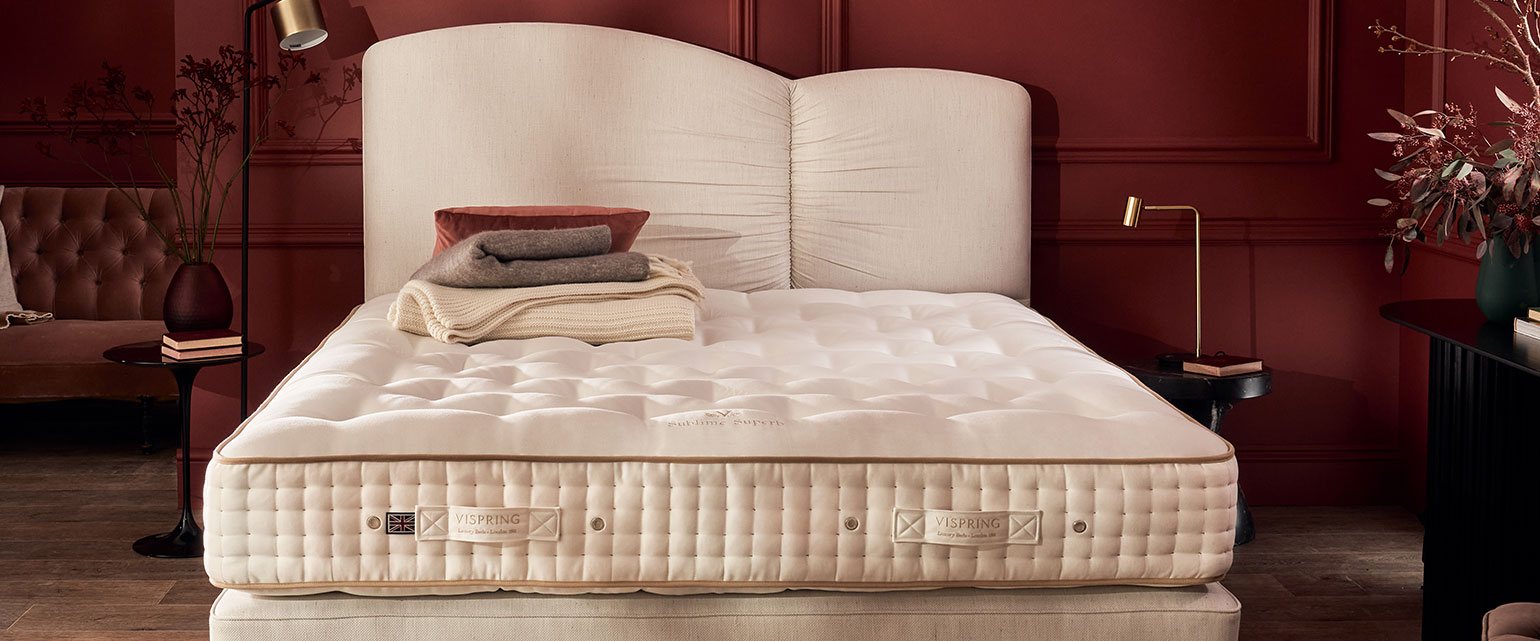 Mattresses
From soft and sumptuous to firm and supportive, here at snuginteriors, we want our customers to have a high-quality sleep and tailor made comfort. We truly believe in the benefits of a strong, progressively supportive well made spring (the engine of your mattress), so we've done the hard work and developed a concise range of high-quality pocket spring mattresses, handmade in Britain, using the finest materials to help deliver a deep and regenerative night's sleep.
When spending a third of your life in bed, it's not worth compromising on comfort or long-term well-being. All of our mattresses are available in a wide range of sizes and tensions to suit you.
Vispring Recliner Elegance Mattress
The Vispring Recliner Elegance mirrors the upholstery and comfort of the classic Vispring Devonshire Mattress, while offering the additional health benefits of a mattress designed for an adjustable electric bed. It features generous fillings of hand-teased Platinum Certified Devonshire fleece wool, nestled on 748 honeycomb hand-nested pocket springs, offering a stunningly cosy, soft sleeping experience. The mattress borders are reinforced with layers of protective wool and 2 rows of hand-side stitching for edge to edge support that will keep you sleeping well for years to come.
Vispring Recliner De Luxe Mattress
The Vispring Recliner De Luxe is carefully modeled on the favored Vispring Herald Superb Mattress. It features 799 calico pocket springs* - each hand-nested with meticulous artisan skill for a delightfully supported night's sleep. The expertly blended filling of Platinum Certified British fleece wool, horsehair and cotton ensures maximum comfort while wicking away moisture to improve the quality of your sleep. This luxury mattress is expertly hand tufted, tailored with 2 hand side-stitching for extra durability, and backed by a 30-year guarantee against craftsmanship.
Vispring Recliner Superb Mattress
The Vispring Recliner Superb closely resembles the Regal Superb Mattress and is a luxurious choice designed to work with an adjustable electric divan base to improve the quality of your sleep. It features 950 hand-nested calico pocket springs* and a balanced combination of 100% natural fillings. Springy long stranded horsetail, Platinum Certified British fleece wool, real Shetland wool and cotton all provide an exquisitely buoyant, soft and supportive mattress filling. All this is upholstered in the most elegant of fabrics and the borders are strengthened with a protective wool layer and 2 rows of hand side-stitching. With such an abundance of natural luxury fillings, your body is perfectly cradled in quality Vispring craftsmanship that's made-to-last and backed by a 30 year guarantee.
Vispring Recliner Excellence Mattress
The Vispring Recliner Excellence Mattress, for Adjustable Beds, is the height of adjustable luxury and has been closely modeled on the popular Vispring Sublime Superb Mattress from the core range. The mattress is generously filled with an array of natural fillings, including Platinum Certified British fleece wool, offering a firmer feel and the ultimate support.
---
Luxury Mattresses
There is nothing more enjoyable than sinking down into a snug mattress at the end of a long day. Here at snuginteriors, we understand that there is no compromise when it comes to sleep. This is why we only offer the best, handmade mattress brands, including Hypnos and Vispring. From soft and sumptuous, to firm and supportive, we have luxury mattresses for everyone.
As a leading independent retailer, we offer tailor-made comfort and have partnered with some of the world's most prestigious and well-renowned mattress brands, all of which are British made, to ensure the very best comfort and support for our customers. We will take the time to understand your lifestyle, preferences and requirements before suggesting a number of options for you to choose from. Body composition, weight, height and the position you sleep in are all factors that you will need to consider when choosing a mattress. All of our mattresses come in a range of tensions and sizes, from Singles to Super Kings and even up to Emperor size.
A good mattress is crucial to your health and quality of sleep, which is why we promote the benefits of a strong, progressively supportive well-made mattress. Our hand-picked selection of pocket-sprung snug mattresses are all hand-made in Britain and use the finest, high-quality materials to deliver a regenerative, relaxing and rejuvenating night's rest.
WHY CHOOSE VISPRING LUXURY MATTRESSES?
Considered one of the most distinguished and luxury mattress brands, our mattress shop has one of the largest displays of Vispring handmade mattresses, all unique in their design, ensuring bespoke luxury comfort, whatever your needs. Our team are highly trained and have a great wealth of knowledge on Vispring and the mattress models, so they can explain the subtle differences between the feel and specification of each Vispring mattress, along with advising which models would be best suited to you. Vispring combines manufacturing techniques refined over a century, with the finest natural materials available to create unique, resilient and quality pocket spring mattresses, made entirely by hand and guaranteed for 30 years.
WHY CHOOSE HYPNOS LUXURY MATTRESSES?
This British mattress brand has over 100 years of expertise in making pocket spring beds and is the only bed manufacturer to actively supply the Royal residences having held a Royal Warrant since 1929. Using time-honoured skills, Hypnos mattresses use nature's best materials to create comfortable and tailor-made mattresses to enhance well-being. All materials are ethically-sourced, sustainable, naturally breathable and used with style and comfort in mind.
According to the Sleep Council, you should change your mattress regularly. The specific time period for changing will vary according to the mattress that you currently have and will be determined by the quality of the original components and the craftsmanship. However, it often becomes quite clear to the user when the mattress has passed its best and is in need of replacement.
A mattress which offers the correct support, comfort and sleeping space will ensure you sleep more deeply and wake less, and are less likely to suffer from aches and pains, all contributing to a regenerative nights sleep.
At snuginteriors, we can deliver and install your new snug mattress and can even recycle your old mattress for you. Talk to one of our mattress experts and bed specialists today to select the perfect mattress for you.