Vispring Elite Mattress
The Vispring Elite mattress offers unrivalled quality and comfort to last a lifetime. It features a blend of the finest wool and cotton fillings – perfectly paired to wick away moisture and improve the quality of your sleep. It boasts 1,254 vanadium steel pocket springs*, available in a range of tensions to suit every personal preference and body type. This all-natural luxury mattress is expertly hand tufted and tailored with 2 rows of hand side-stitching for extra durability. It's backed by a 30-year guarantee against craftsmanship. Read more

41 reviews

Available (allow approximately 4 weeks for delivery)
Home Delivery
FREE 2 Man Delivery & Installation to all but the most remote mainland UK postcodes
Product Description
The Vispring Elite mattress offers an introduction to one of the world's finest British heritage mattress makers at an affordable price. It features 1,254 signature vanadium steel luxury pocket springs (in the king size)* in a choice of soft, medium, and firm tensions for ideal body contouring and spinal alignment. Each high-quality spring is individually hand-nested in its own fabric to reinforce its individual responsiveness.
The Vispring Elite boasts expertly hand tufted and tailored deep layers of Platinum Certified British fleece wool and cotton - an exclusive natural filling that's expertly selected to wick away moisture, boost mattress hygiene, and regulate body temperature for a deep, rejuvenating night's sleep.
The mattress borders are reinforced with upholstery and 2 rows of hand side-stitching for extra durability. Meticulously handmade in Britain, the Vispring Elite Mattress draws on over 100 years of Vispring craftsmanship.
For King sizes and above, you and your partner can enjoy a mattress that's customised to your individual needs with a combination tension mattress – a one-piece mattress with left and right-hand tensions. For Super King sizes and above, we offer zipped mattresses, with two individual mattresses in the desired tension. This option is ideal for accessing tight spaces, it also makes turning the mattress easier and adds the option of splitting into twin beds.
Embellish your sleep experience by pairing a Vispring Elite mattress with a Vispring mattress topper or a Vispring mattress protector – which are made to very detailed standards to exactly match your mattress choice.
The Vispring Elite mattress can be used with a solid or slatted bed base for a firmer feel bed. For ultimate comfort, pair the Vispring Elite with the Vispring De luxe Divan Base to create the Vispring Elite Bed set that can be fully customised to suit any bedroom style and complete with a Vispring headboard, which is available to purchase separately in matching fabric.
The Vispring Elite mattress would suit someone looking for superb comfort and long-lasting quality with fully customizable options to suit every bedroom. With its 30-year guarantee against craftsmanship, it's an investment into your long-term wellbeing that's good for you and for the environment.
With over 25 years' experience in matching people with the right mattress, we can help you find your ideal bed set for a blissful night's sleep. Please call us or visit our showroom for a personal consultation.
Specification
Brand: Vispring
Made in the UK: Yes
Mattress Borders: 21 cm deep – 2 rows hand side-stitching upholstered with protective wool
Mattress Upholstery Filling: Bonded Platinum Certified British fleece wool and cotton, blended Platinum Certified British fleece wool and cotton
Mattress Spring Type: Hand-nested calico Vanadium Steel pocket springs (56 mm Diameter)
Mattress Spring Count: 1254 (king size)
Surface Finish: Finest quality ticking with hand-tufted with felt washers
Firmness / Support Level: Soft / Medium / Firm / Extra Firm
Guarantee: 30 Years
Mattress Care: Seasonal Turning
Tension: Soft / Medium / Firm / Extra Firm
Why We Love The Vispring Elite Mattress
Pioneers of the pocket spring. British manufacturer, Vispring, have been making the most luxurious beds since 1914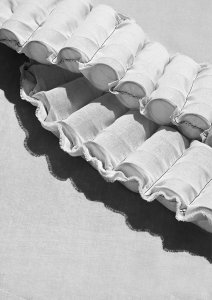 Combining the finest vanadium steel pocket springs with all-natural upholstery for the ultimate in luxurious comfort and support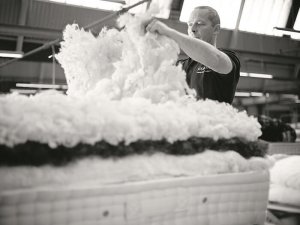 Testament to their quality, Vispring beds and mattresses carry a 30 year guarantee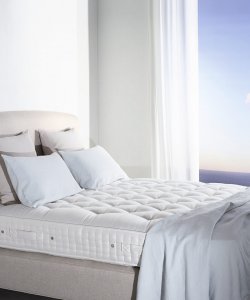 Customer Reviews
By
Nigel Quick
on
10th July 2022
"It was an identical replacement for one that had seen excellent service."

By
Janet Gaskell
on
18th November 2021
"Excellent"

By
Mr Jeremy Vaughan
on
19th June 2021
"Quality mattress. Spent a long time researching which mattress to purchase. Finally decided on going with a traditional spring mattresses from Vspring, a long established British manufacturer. Boy, am I glad I did. Sleeping better than I have for years."

Read more
By
Mrs Linda Martin
on
10th June 2021
"Excellent mattress as I thought it would be."

By
Laura Wolton
on
24th April 2021
"Very comfortable and high quality"

By
Mr Morgan
on
12th November 2020
"product of great quality."

By
Marina Heritier
on
5th October 2019
"Super comfy!! Supportive but soft"

By
Carole Bungard
on
23rd January 2019
"We have purchased two of these for our home as well as two for relatives. They agree with us that the mattress is the most comfortable they have ever slept on."

By
James Lavender
on
13th June 2018
"Excellent quality mattress"

By
Mr & Mrs Symondson
on
2nd May 2018
"It is obvious this is a quality item .
Soooo comfortable!"

By
Zoe Henderson
on
2nd May 2018
"Love my mattress. It is gorgeous and what a difference to any other mattress I have had. Sleeping like a baby. Thank you."

By
Raymond Bungard
on
2nd May 2018
"I have said all I can say"

By
Ouma Sauboorah
on
1st November 2017
"Very comfortable and a good upgrade to my previous mattress which was far to hard for my back problem. I no longer wake up with aches and pain."

By
Ms Katherine Bird
on
1st November 2017
"Very comfortable.aaaaaaaaaa"

By
Mrs Lisa Penney
on
22nd August 2017
"A regular Vispring purchaser. Excellent brand. Expensive but worth it."

By
Mr Jon Pywell
on
9th August 2017
"Bed is superb as was free matress protector. Only small issue was that the delivery contractor did not know they had to take away old matress but fortunately I had a email as proof"

By
Susan Roberts
on
4th August 2017
"As above. So far very pleased."

By
Mr & Mrs Brede
on
13th June 2017
"Only slept on my V-Spring mattress once but so enjoyed."

By
Mr John Bungard
on
11th May 2017
"I already have this mattress in my house in England and my wife and I just love it which is why we bore the cost of having one shipped to France.

Maintenant, j'ai aussi une bonne nuit de sommeil en France."

By
Monica Stiles
on
1st April 2017
"So many people are searching the internet for a soft mattress - but where do you find one? By soft, I mean one that gives when an 5'3" 8-stone person lies on their side. This mattress is labelled "soft" and feels soft and bouncy when one sits on it, but when I fall asleep on my side, I still wake up with bruised hips - a mattress topper (or two...) doesn't solve this. "Experts" telling you that you need a firm bed don't make the discomfort disappear!"

Staff response...
"Thank you for taking the time to provide your feedback.  We always love to hear from customers.  This mattress does indeed have 3 levels of tension: Soft, Medium and Firm, which is designed according to the persons body weight, so you are right to have selected the soft tension for your body weight.  The overall firmness of the mattress will also vary between models according to the specification (so it's not just to do with the tension), for example the quantity and type of upholstery fillings will affect the overall softness.  Another factor which will affect the overall feel of the mattress is the type of base that you are putting the mattress on.  We note that you were putting the mattress on to a bed frame.  If this was a slatted base this will make any mattress come up firmer as opposed to when you partner it with a sprung divan base.  If this is the case you could consider adding a sprung bed base so you get the benefits of a sprung base whilst retaining your bed frame.  I hope this helps - if you would like any further help, please do not hesitate to contact our showroom and we'd be pleased to help."
By
Mr James Wyatt
on
17th March 2017
"Perfect mattress for our needs"

By
Mrs S Dobson
on
19th December 2016
"I have just tried, but not enough room."

By
Patrica Kenyon
on
24th October 2016
"Extremely comfortable. It has stopped me waking up achey."

By
Mr Ravinderjit Minhas
on
15th October 2016
"Good"

By
Ms Marie Toner
on
3rd October 2016
"Good"

By
Mrs Sally Bradford
on
24th September 2016
"Just received my mattress this week and loving it already."

By
Mr Clive Foyle
on
16th September 2016
"Excellent"

By
Mr & Mrs Phipps-Capparelli
on
10th September 2016
"As Above"

By
Mr Peter Cheung
on
28th July 2016
"As Above"

By
Shahnan Bakth
on
19th July 2016
"Love the mattress but it was a shame that the delivery company refused to transport it up to our bedroom, which meant we had to lug it up ourselves and have to then condense the behemoth box into small pieces ready for the bin men!"

By
Mr Gareth Healey
on
4th July 2016
"As Above"

By
Mrs S Mountstephen
on
19th March 2016
"All my mattresses are Elite - they give you a very comfortable night's sleep."

By
Miss E Simmons
on
16th March 2016
"Very happy with new mattress"

By
Mr and Mrs Haydon
on
22nd January 2016
"Sleeping so well in our new bed, goodbye memory foam hello vi Spring!"

By
Shelagh Penny
on
19th December 2015
"Extremely comfortable - I wake up with no back pain - the first time for many years"

By
Mr John Bungard
on
2nd November 2015
"Extremely comfortable - not cheap but well worth the money."

By
Mr C Oxenham
on
20th October 2015
"Having slept on Vi-Spring mattresses since 1978, this was a present for my daughter."

By
Mr Patrick Silva Santos
on
23rd September 2015
"As Above"

By
Mr A Singleton
on
4th September 2015
"A joy to sleep on"

By
Mrs D Philpott
on
28th July 2015
"Very pleased with medium sprung Vispring elite mattress,read which magazine reviews and feel I have made 'good night sleep' investment."

By
Michael Eastop
on
22nd July 2015
"Still needs to bed in (forgive the pun). Pretty good so far."

snug Comfort Pledge
We want you to be confident with your new purchase and we want you to get it right the first time. This means you'll be happy straight away, which is what we always strive to achieve. With over 25 years' experience helping customers choose the right mattress to suit them, we are confident that with a chat over the phone, or a visit to our showroom, we can alleviate most doubts by advising customers on the best Vispring mattress to suit their body shape/weight and their individual sleep preferences.
However, we also appreciate it is a large investment and even with our guidance, this may not always be enough reassurance, which is why we are offering a Comfort Pledge for Vispring Mattresses.
How does it work?
If after sleeping on your new Vispring mattress for a minimum of 30 nights and a maximum of 90 nights from the date of delivery, you decide it isn't the right Vispring mattress for you, we can offer an exchange of your Vispring mattress for a new spring tension (same Vispring model).
There is a £100 charge to cover this exchange. This is a one-time exchange only and refunds are not permitted. Once exchanged, the Comfort Pledge will end and the original mattress cannot be retained.
Please note, for zipped mattresses, we can only offer an exchange of tension on one of the two mattresses and the mattress cannot be changed to a one piece mattress.
We recommend sleeping on the original mattress for as long as you can up to the upper limit of the 90 days. This is because it takes time to adjust to the feel of a new mattress and if you decide to exchange too soon, you may ultimately make the wrong decision. By all means, please do call us earlier to discuss any concerns.
If you would like to invoke our Comfort Pledge we need you to put this in writing together with your proof of purchase. This Comfort Pledge is only available to the customer that made the original purchase and is only available for mattresses that remain in mainland UK.
This offer does not apply to mattresses which have been damaged through misuse, wilful or accidental damage, neglect or general wear and tear.
Our Delivery Service
Large Item (Beds, Mattresses, Headboards, Sofa Beds and Furniture) delivery:

Charges
We offer a FREE 2-man white glove delivery and assembly service as standard for all orders over £500 for mainland UK addresses, excluding the most remote parts of the Scottish highlands which will carry a small surcharge. For orders under £500, we ask for a small contribution of £25.
For non-mainland UK addresses including Northern Ireland and other UK islands we ask for a small contribution to the delivery charge, which will be calculated at the checkout once you enter your delivery address. For some very remote areas, we will display a message for you to contact our showroom so we can provide a quotation.
For Channel Islands and International deliveries, please contact our showroom, who will be able to discuss the delivery options with you and provide a quotation.


Our delivery and assembly service
We offer a 2-man delivery and installation service as standard on all large items to customers nationwide, using our in-house team or one of our specialist Delivery Partners. Our experienced delivery teams will carry your order to the room of choice (up to third floor as standard), where they will unpack and install the item and remove any packaging, leaving you free to enjoy your new bed or mattress.
We will contact you ahead of the planned delivery to agree a mutually convenient delivery date, most commonly between Monday and Friday although weekends are sometimes possible. The day before the delivery you will receive a 4-hour timed slot, so you know when to stay in to receive your delivery. On the day of delivery, our delivery team will call you when en-route to give you a more precise arrival time (unless you are the first delivery of the day). They'll also endeavour to keep you updated should they run into a traffic jam or get delayed by any unforeseen event. Once at your home the two-man delivery crew will carry the item to your desired room, assemble the item (where this service has been selected or is automatically included), and will remove any packaging.

Please do let us know at the time of placing the order if you have any restrictions or difficult access either inside the property or approaching the property, so we can look into the best solution for you.

If you would prefer a contact-free delivery service, this can be arranged. Please just let us know in advance.


Recycling your old bed or mattress
Should you no longer have a need for your old mattress or bed, we can remove and recycle this item for you (on a like-for-like basis) when delivering your new order. There will be a charge of £45 per mattress or £60 per bed for this service.


Access
Please ensure when placing the order that the item will fit into your home and there is sufficient access to your room, for example around a tight bend in your staircase or through a narrow doorway. If you are unsure, then our showroom will be more than happy to discuss the access with you. This way we can do all that we can to ensure the item fits in. We always try our hardest to find a solution.


Small Item delivery via Courier (Bedding & Bed Linen):

Charges
For smaller items such as bedding and bed linen, we charge a flat rate of £6.00 using a Next Working Day delivery service for all mainland UK addresses excluding the most remote parts of the Scottish highlands which will carry a small surcharge. For customers who spend over £100 on Brinkhaus bedding we offer FREE delivery.
For Northern Ireland and most other UK islands we charge a flat rate of £12. For the most remote postcodes and International addresses, we will display a message for you to contact us so that we can provide a quotation.
Service
Parcels will be delivered by a reputable, national courier and will require a signature on delivery, unless you request for the item to be left in a safe place or with a neighbour. In most instances, you will receive a text/email message on the day of the delivery (direct from the courier company) with a 1-hour timed slot. If that time slot is not convenient there will be various options on the message to leave in a safe place, deliver on a different day or leave with a neighbour, simply follow the instructions provided.
We deliver to all postcodes in mainland U.K., Northern Ireland and most UK islands (there may be some exceptions to the most remote postcodes). If you require delivery outside of this area including the Channel Islands and International Deliveries, please contact snuginteriors directly for more information.
Lead times
Our delivery lead times vary across our product range and are kept up to date and quoted in good faith on each product page.
Stock orders: We aim to dispatch all orders from stock on a 24-hour (next day) delivery service. For orders placed before 1pm, we will endeavour to dispatch on the same day. If the order is received after 1pm, it may be dispatched the following day.
In the rare and unfortunate event that we are out of stock of an item, we will notify you and will arrange for your order to be dispatched directly from the manufacturer to keep the lead time and carbon footprint to a minimum. We will update you on any changes to lead time if applicable.
If you have any queries regarding our delivery service or if you have a specific date to meet, please contact our showroom and we can advise you if that will be possible – you can be assured, we always try our hardest!
Delivery costs are applied per order, not per item, and will be added at checkout.
For International Orders, please click here.
Please read our terms and conditions for further information.
Hassle-Free Returns
We want you to have the best experience with snuginteriors and recommend us to all your friends and family, to do this you must be happy with your order. If for any reason you are not happy and you wish to return your goods, we ask that you notify us in writing within 14 days of receipt of your goods. This 14-day period begins the day after you received the goods.
Please ensure you keep your order in perfect condition. This means unused, undamaged and, where possible, in the original packaging with the labels in tact.

For small items, we will ask you to
send the item(s) back to us securely wrapped to avoid any damage in transit via a recorded mail service, including your order number and receipt.

For large furniture orders, we will arrange the return/collection of the goods. Please note you will be charged collection for the item(s), unless it is faulty.
For hygiene reasons, mattresses, bedding and bed linen can only be returned if they are in their original packaging and have not been opened, or used in any way. Try the mattress with the packaging on to be sure you are happy first!
We regret that we cannot cancel, refund or exchange a bespoke order that has been specially made for you (unless faulty). Read our full terms and conditions
here
.