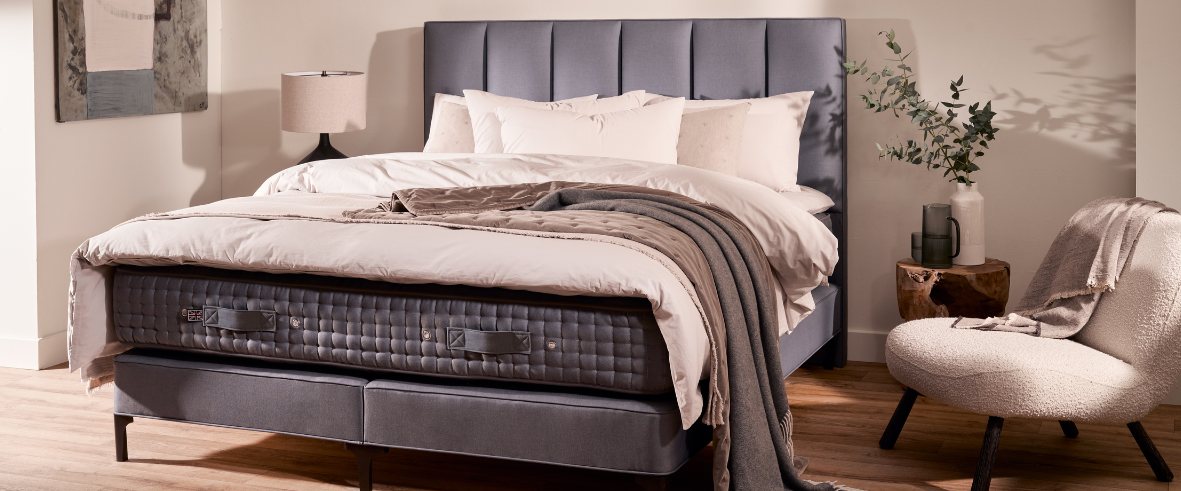 Divan Beds (mattress and divan base)
Our luxury pocket-spring divan beds (mattress and divan base set), including leading brands Vispring and Hypnos Beds, are designed to give you full body support using high quality, durable and progressively supportive individual springs that are nested in separate pockets. In every mattress each spring responds independently and according to the pressure that it receives, ensuring maximum support as they gently adapt to the body's contour.
All of our divan beds have been developed to feel brilliant and provide excellent levels of support. As you go up in our range you will note there are an increased number of springs, luxurious natural fillings and more rows of hand side-stitching, all of these add to the overall comfort, support and longevity of the product. All of our divan beds can be customised to suit you with a choice of mattress tensions, divan base styles, storage and fabric options.
Please note all divan beds listed are available in a wide range of options, so click through to configure your design. The photographs alone do not show all available options.
J Marshall No. 1 Divan Bed
The J Marshall No. 1 is carefully crafted for a luxurious night's sleep. 1,000 individual pocket springs offer engineered support while tracing the natural curvature of your spine. Deep natural fillings of cotton, wool and bonded layered wool provide cushioning and maintain optimal breathability. These natural materials wick away moisture to keep your mattress at optimum quality. The horizontal handles conceal fine mesh air vents to ensure the mattress remains fresh. No.1 is wrapped in a soft-feel viscose and cotton Belgian Damask ticking for durable comfort. Quality craftsmanship is guaranteed with traditional hand tufting.
J Marshall No. 2 Divan Bed
No.2 packages luxury in an accessible and versatile mattress. 1,200 pocketed springs upholster your mattress for a fully supported night's sleep. With fillings made up of pure new wool, soft bamboo, sustainable Tencel and Alpaca – this is a superior comfort range that's designed with your wellbeing in mind. The natural materials used allow the mattress to breathe, giving you a more comfortable night's sleep. A Belgian Damask cover makes for a silky-smooth finish for optimal comfort.
J Marshall No. 3 Divan Bed
With 1,400 pocketed springs, the Plus Pillow Top is designed for exceptional depth of comfort and responsive support. No. 3 will contour your body to respond to every need and adjust pressure where needed. It's filled with an all-natural blend of materials: cotton, wool, sustainable bamboo, and soft alpaca and pashmina. For added support and comfort, J. Marshall have introduced an extra layer of memory wool to the mattress sleeping surface. A Belgian Damask ticking covers the mattress in breathable comfort.
J Marshall No. 4 Divan Bed
With 1,600 pocket springs and a further 1,500 micro springs, the No. 4 is the top of the range within the J.Marshall by Vispring collection. It's a highly responsive mattress designed for perfect spinal alignment: the high number of springs ensure this mattress will cushion and support in all the correct areas. It boasts a pure new wool and cotton hand tufted filling that will wick away moisture for a comfortable night's sleep. The integral Pillow Top layer is filled with wool, cashmere, silk, alpaca, bamboo, and pashmina – the optimal layering to keep your mattress fresh and dry. The viscose and cotton Belgian Damask ticking wrap the mattress in a final tone of natural elegance.
---
Luxury Divan Beds
Choose to update the look of your bedroom or guest room with one of our luxury divan beds and treat yourself or your guests to a heavenly night's rest.
Divan beds are made up of two separate parts: a mattress and a specially designed divan base which is generally made in two pieces (for double sizes and above) and fixed with castors or legs. There are a variety of height and storage options available within a divan base. Choose a shallow divan on legs for a contemporary look or a deep divan base for a more classic look and to allow for storage. A deep divan comes with castors as standard (although other options are also available). This construction means they are easy to manoeuvre, which is ideal if you want to rearrange the layout of your room or move the bed while cleaning.
Divan beds are extremely popular, and this means there is a huge variety of styles to choose from. We have ottoman beds with mattress, low divan beds, heavy-duty divan beds, and more. To help you narrow down this choice and find a luxury divan bed that meets all your needs, come along to our bed showroom in Rake, Hampshire where you can browse and even try out some of the best divan beds from leading makers like Vispring and Hypnos.
Choosing a new bed is an important decision and our friendly and experienced team will talk through your requirements to find out exactly what you need. We will then suggest a range of options that we feel will work for you. Or, if you prefer to shop from the comfort of your home, browse our large collection of luxury divan beds online. If you're struggling to come to a decision, give us a call and we'll be happy to talk you through the different options. Our product knowledge and experience really sets us apart, so you can be sure of getting the right recommendations to suit you. Plus, we offer a 2 man, white glove delivery service as standard. So once you have chosen your perfect bed, we will have it made and then will deliver and install the bed in the room of you choice, removing all packaging, so you can enjoy the luxurious feeling of sleeping in a comfortable divan bed as soon as you receive it.
The flexible design of a divan bed means you can create a bed which is built around your requirements. For instance, if you struggle to get in or out of bed, you can opt for a low divan bed. Or, if you need a sturdy bed, a heavy-duty divan bed will offer sumptuous comfort for a long time. All of our luxury divan beds can be made to match your décor with countless design options that we can take you through, including a range of fabric, leg and storage options, not to mention elegant headboards to match.
Luxury divan beds are made for modern living, as they can come with a range of storage options such as drawers, ottoman and hideaway storage, all of which are built into the frame. This makes them ideal for compact spaces or for people who need extra storage but don't have space for a wardrobe or a chest of drawers.
Please do get in touch to discuss your requirements and we'll be delighted to help you.