Vispring Devonshire Divan Bed
The Vispring Devonshire Divan Bed is an all wool model by Vispring and is the perfect choice for softness with underlying support so the body is aligned, supported and cradled with comfort. With a wide range of design and comfort options to choose from, the Devonshire Divan Bed can be personalised to suit you. See promo details below. Read more

26 reviews

Available (allow approximately 4 weeks for delivery)
Home Delivery
UK mainland delivery from FREE

Independent Rating 5.0/5
Product Description
The Vispring Devonshire Divan Bed features generous fillings of hand-teased Platinum Certified Devonshire fleece wool, laid over thousands of honeycomb nested calico-pocketed Vanadium steel six coil springs to ensure a uniquely comfortable and luxurious sleeping experience.
An all wool model by Vispring, the Devonshire Divan bed is the perfect choice for softness with underlying support so the body is supported and cradled with comfort.
Each mattress is available in a choice of tensions: soft, medium and firm. For King sizes and above we can offer a 1-piece mattress with left and right hand tensions, known as a combination tension mattress. For Super King sizes and above, we can also offer zipped mattresses, with two individual mattresses in the desired tension, zipped together to create one piece. This is a great option for accessing tight spaces or to make turning the mattress easier.
The Vispring Devonshire Mattress is partnered with the Vispring Wool De Luxe Divan Base, which is constructed from slow grown FSC accredited, Scandinavian timber with glued and screwed joints for added strength. Each divan base is fully sprung from edge to edge to deliver excellent support and upholstered in the fabric of your choice, for excellent comfort and style.
Vispring beds are bespoke in every sense of the word, from choosing the size and tension of your mattress through to divan height, fabric, leg and storage options, so please do call our showroom if you'd like to discuss your purchase further so you can be sure you are getting the right specification for you.
*Please note headboard is not included, but available to purchase separately. Complete your bed with a Vispring headboard in the same matching fabric.
Special Promotion: Buy any Vispring Divan Bed in our Autumn sale and receive 2 x free 50 x 75cm (standard size) Vispring European Duck Feather & Down Pillows worth £130 (1 x free pillow for single sizes).
Specification
Brand: Vispring
Made in the UK: Yes
Mattress Borders: 21 cm deep – 2 rows hand side-stitching upholstered with protective wool
Mattress Upholstery Filling: Platinum Certified British fleece wool, hand-teased Platinum Certified Devonshire wool, Platinum Certified British fleece wool
Mattress Spring Type: Hand-nested calico Vanadium Steel pocket springs (54 mm Diameter)
Mattress Spring Count: 1326 (king size)
Surface Finish: Finest quality ticking with hand-tufted with felt washers
Firmness / Support Level: Soft / Medium / Firm / Extra Firm
Guarantee: 30 Years
Divan Construction: Solid timber frame with hand-nested calico pocket springs
Mattress Care: Seasonal Turning
Divan Upholstery / Filling: Softly needled and heavily needled Platinum Certified British fleece wool
Tension: Soft / Medium / Firm / Extra Firm
Divan Spring Count: 600 (king size)
Divan Base Finish: Upholstered in the fabric of your choice
Why We Love The Vispring Devonshire Divan Bed
Pioneers of the pocket spring. British manufacturer, Vispring, have been making the most luxurious beds since 1914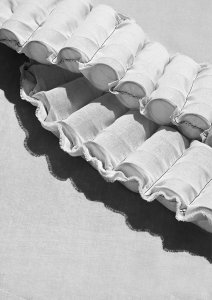 Combining the finest vanadium steel pocket springs with all-natural upholstery for the ultimate in luxurious comfort and support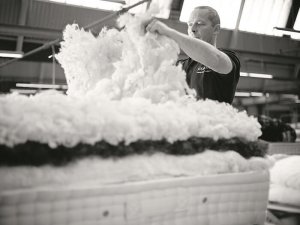 Testament to their quality, Vispring beds and mattresses carry a 30 year guarantee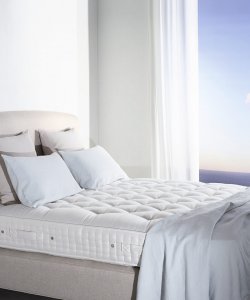 Customer Reviews
By
Graham Disney
on
10th November 2021
"We tested various beds, some costing twice the price, but this one worked best for our needs. We went for the soft mattress and it is a big improvement in comfort."

By
Mr & Mrs Dixson
on
27th May 2021
"Excellent service
Not rushed to make a decision
Able to try out as many beds as we wanted
Helpful information from staff
Great sale purchase
Their delivery company was also excellent and helpful"

Staff response...
"Thank you for taking the time to leave a review of your shopping experience here at snuginteriors. Customer service is at the heart of our business so we are delighted to hear it didn't go unnoticed. We hope you continue to enjoy your lovely new
Vispring Devonshire Divan Bed
- this really is the perfect choice for softness and support.
Kind regards,
Rachel"
By
Mr and Mrs Payne
on
18th December 2020
"Excellent"

Read more
By
Mrs Vicas
on
12th November 2020
"As Above"

By
Mr & Mrs Klein
on
11th October 2019
"The advice given during the research phase was in-depth and tailored specifically to our requirements, so that we have ended up buying the most appropriate bed for our comfort and style preferences and needs. It is like sleeping on a cloud!"

Staff response...
"Thank you so much for taking the time to offer such a positive review on your personal experience of snuginteriors. We are so happy that you found our advice so informative and helpful, as we use our 30+ years of experience in the industry, to tailor our advice to every customer and their needs.
Though disappointing you expected the Mattress Protector to be thicker, its lovely to know that the item and it's quality, is of the standard we expect and that it is doing such a lovely job for what you bought it for.We are also delighted that you have found the perfect product in your Vispring Devonshire Divan Bed.
This is such a popular choice as many love the support and the high level of 'cloud' comfort that this item provides, so it's lovely to know that it has transformed your sleeping experience in such a positive way.
We hope you have the pleasure of assisting you again in future.
Kind Regards
Nicole"
By
Mr & Mrs Billinge
on
25th July 2019
"So comfortable. It is such a joy.
We don't want to go away on holiday anymore. it's too nice here at home!!"

By
Mr & Mrs Toplis
on
3rd July 2019
"Excellent choice. We are very happy with our purchase."

By
Mr & Mrs Grant
on
19th July 2018
"Looks great, just getting used to it."

By
Zarina Naqvi
on
18th April 2018
"Colour and quality is wonderful."

By
Mrs Aked
on
22nd January 2018
"See previous comments please"

By
Susan Pigott
on
15th November 2017
"It took a couple of days to become
used to "new bed " but I am now completely
Satisfied"

By
June Purves
on
9th November 2017
"As described - a really comfy bed"

By
Mr & Mrs Martin
on
30th August 2017
"we rate the Vispring because of the quality, comfort and finish.,"

By
Mrs Pont
on
27th March 2017
"Lovely and comfortable and very good service"

By
Mr & Mrs Symondson
on
7th November 2016
"Beautifully crafted and divinely comfortable ."

By
Mr Tribe
on
29th October 2016
"As Above"

By
Mr & Mrs Colin Barnes
on
8th October 2016
"I already have one of these beds which is the reason I choose it"

By
Carole Metcalf
on
18th September 2016
"Good"

By
Mr & Mrs Braid
on
17th August 2016
"This is after only two nights use that's how recently the bed was delivered."

By
Mrs Elizabeth Fry
on
1st August 2016
"Bit early to say for sure as new beds take a bit of getting used to but quality is excellent."

By
Mr & Mrs Kent
on
5th April 2016
"Very comfortable, it is like sleeping on marshmallow!!"

By
Mrs E Doherty
on
13th November 2015
"Very pleased with choice very comfortable and cosy."

By
Mr & Mrs S Browne
on
10th October 2015
"As Above"

By
Mr Martyn Ayshford
on
29th September 2015
"Seriously I've never slept so well."

By
Mr & Mrs Curd
on
23rd September 2015
"Really comfortable from the first night"

By
Colin of Mar
on
26th August 2015
"Excellent"

snug Comfort Pledge
We want you to be confident with your new purchase and we want you to get it right the first time. This means you'll be happy straight away, which is what we always strive to achieve. With over 25 years' experience helping customers choose the right mattress to suit them, we are confident that with a chat over the phone, or a visit to our showroom, we can alleviate most doubts by advising customers on the best Vispring mattress to suit their body shape/weight and their individual sleep preferences.
However, we also appreciate it is a large investment and even with our guidance, this may not always be enough reassurance, which is why we are offering a Comfort Pledge for Vispring Mattresses.
How does it work?
If after sleeping on your new Vispring mattress for a minimum of 30 nights and a maximum of 90 nights from the date of delivery, you decide it isn't the right Vispring mattress for you, we can offer an exchange of your Vispring mattress for a new spring tension (same Vispring model).
There is a £100 charge to cover this exchange. This is a one-time exchange only and refunds are not permitted. Once exchanged, the Comfort Pledge will end and the original mattress cannot be retained.
Please note, for zipped mattresses, we can only offer an exchange of tension on one of the two mattresses and the mattress cannot be changed to a one piece mattress.
We recommend sleeping on the original mattress for as long as you can up to the upper limit of the 90 days. This is because it takes time to adjust to the feel of a new mattress and if you decide to exchange too soon, you may ultimately make the wrong decision. By all means, please do call us earlier to discuss any concerns.
If you would like to invoke our Comfort Pledge we need you to put this in writing together with your proof of purchase. This Comfort Pledge is only available to the customer that made the original purchase and is only available for mattresses that remain in mainland UK.
This offer does not apply to mattresses which have been damaged through misuse, wilful or accidental damage, neglect or general wear and tear.
Our Delivery Service
*Please note - Special Delivery Measures in response to Covid-19 Virus.
Covid-19 Safe Furniture Delivery Service
In accordance with the latest Government advice and to ensure the safety of both our customers and our delivery teams, we are operating Contact Free Deliveries making sure we keep to social distancing regulations, in particular when we deliver to the most vulnerable customers in our community. Our 2-man delivery service offers the following options to accommodate our customers' needs:
We can deliver items outside your home, in front of your door or placed in a safe place allowing a contact-free delivery.

We can deliver to your room of choice, where we can unpack and assemble the order if required and remove all packaging.
We can remove and dispose of your old bed or mattress on a like-for-like basis.
Please be assured safety for all remains our top priority. Our delivery teams have strict safety procedures in place, both in the warehouse and out on the road, including full personal protective equipment (PPE).



Covid-19 Safe Courier Delivery Service
Our couriers continue operating social distancing and contact free deliveries.

Large Item (Beds, Mattresses, Headboards, Sofa Beds and Furniture) delivery:
Charges
We offer a FREE 2-man white glove delivery and assembly service as standard for all orders over £500 for mainland UK addresses, excluding the most remote parts of the Scottish highlands which will carry a small surcharge. For orders under £500, we ask for a small contribution of £25.
For non-mainland UK addresses including Northern Ireland and other UK islands we ask for a small contribution to the delivery charge, which will be calculated at the checkout once you enter your delivery address. For some very remote areas, we will display a message for you to contact our showroom so we can provide a quotation.
For Channel Islands and International deliveries, please contact our showroom, who will be able to discuss the delivery options with you and provide a quotation.
Our delivery and assembly service
We offer a 2-man delivery and installation service as standard on all large items to customers nationwide, using our in-house team or one of our specialist Delivery Partners. Our experienced delivery teams will carry your order to the room of choice (up to third floor as standard), where they will unpack and install the item and remove any packaging, leaving you free to enjoy your new bed or mattress.
We will contact you ahead of the planned delivery to agree a mutually convenient delivery date, most commonly between Monday and Friday although weekends are sometimes possible. The day before the delivery you will receive a 4-hour timed slot, so you know when to stay in to receive your delivery. On the day of delivery, our delivery team will call you when en-route to give you a more precise arrival time (unless you are the first delivery of the day). They'll also endeavour to keep you updated should they run into a traffic jam or get delayed by any unforeseen event. Once at your home the two-man delivery crew will carry the item to your desired room, assemble the item (where this service has been selected or is automatically included), and will remove any packaging.
Recycling your old bed or mattress
Should you no longer have a need for your old mattress or bed, we can remove and recycle this item for you (on a like-for-like basis) when delivering your new order. There will be a charge of £45 per mattress or £60 per bed for this service.
Access
Please ensure when placing the order that the item will fit into your home and there is sufficient access to your room, for example around a tight bend in your staircase or through a narrow doorway. If you are unsure, then our showroom will be more than happy to discuss the access with you. This way we can do all that we can to ensure the item fits in. We always try our hardest to find a solution.
Small Item delivery via Courier (Bedding & Bed Linen):
Charges
For smaller items such as bedding and bed linen, we charge a flat rate of £6.00 using a Next Working Day delivery service for all mainland UK addresses excluding the most remote parts of the Scottish highlands which will carry a small surcharge. For customers who spend over £100 on Brinkhaus bedding we offer FREE delivery.
For Northern Ireland and most other UK islands we charge a flat rate of £12. For the most remote postcodes and International addresses, we will display a message for you to contact us so that we can provide a quotation.
Service
Parcels will be delivered by a reputable, national courier and will require a signature on delivery, unless you request for the item to be left in a safe place or with a neighbour. In most instances, you will receive a text/email message on the day of the delivery (direct from the courier company) with a 1-hour timed slot. If that time slot is not convenient there will be various options on the message to leave in a safe place, deliver on a different day or leave with a neighbour, simply follow the instructions provided.
We deliver to all postcodes in mainland U.K., Northern Ireland and most UK islands (there may be some exceptions to the most remote postcodes). If you require delivery outside of this area including the Channel Islands and International Deliveries, please contact snuginteriors directly for more information.
Lead times
Our delivery lead times vary across our product range and are kept up to date and quoted in good faith on each product page.
Stock orders: We aim to dispatch all orders from stock on a 24-hour (next day) delivery service. For orders placed before 1pm, we will endeavour to dispatch on the same day. If the order is received after 1pm, it may be dispatched the following day.
In the rare and unfortunate event that we are out of stock of an item, we will notify you and will arrange for your order to be dispatched directly from the manufacturer to keep the lead time and carbon footprint to a minimum. We will update you on any changes to lead time if applicable.
If you have any queries regarding our delivery service or if you have a specific date to meet, please contact our showroom and we can advise you if that will be possible – you can be assured, we always try our hardest!
Delivery costs are applied per order, not per item.
For International Orders, please click here.
Please read our terms and conditions for further information.
Hassle-Free Returns
We want you to have the best experience with snuginteriors and recommend us to all your friends and family, to do this you must be happy with your order. If for any reason you are not happy and you wish to return your goods, we ask that you notify us in writing within 14 days of receipt of your goods. This 14-day period begins the day after you received the goods.
Please ensure you keep your order in perfect condition. This means unused, undamaged and, where possible, in the original packaging with the labels in tact.

For small items, we will ask you to
send the item(s) back to us securely wrapped to avoid any damage in transit via a recorded mail service, including your order number and receipt.

For large furniture orders, we will arrange the return/collection of the goods. Please note you will be charged collection for the item(s), unless it is faulty.
For hygiene reasons, mattresses, bedding and bed linen can only be returned if they are in their original packaging and have not been opened, or used in any way. Try the mattress with the packaging on to be sure you are happy first!
We regret that we cannot cancel, refund or exchange a bespoke order that has been specially made for you (unless faulty). Read our full terms and conditions
here
.
People who bought this also bought...