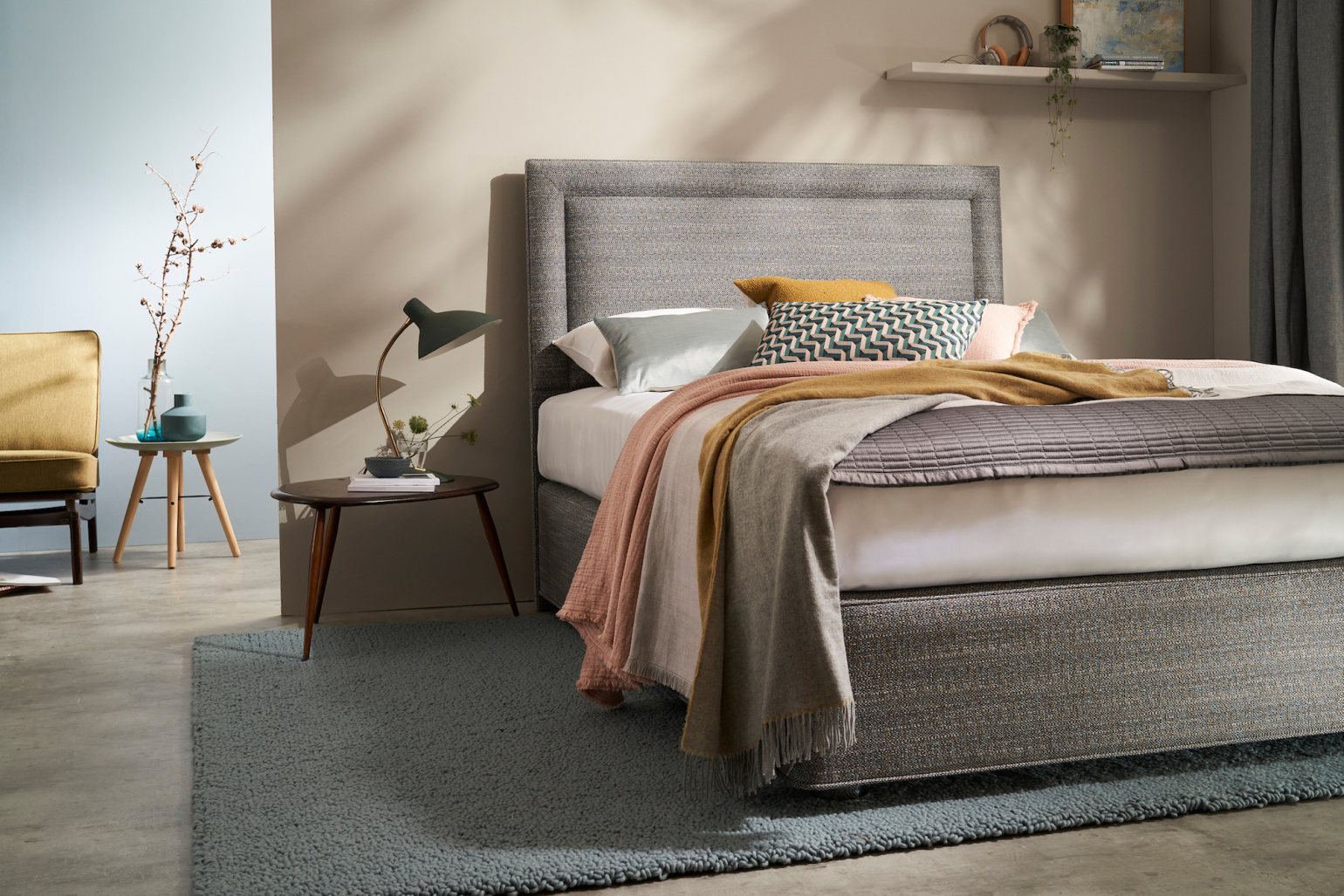 Vispring Divan Beds
As Vispring Bed Specialists we have been advising our customers, for over 22 years, on the most luxurious, handmade Vispring Bed models to suit them. We take the time to understand your requirements and to ensure the bed is made to your exact specification, even if this means the divan base needs to be made in 4 parts to fit through the window, or the mattress needs to be a bespoke shape to fit a yacht!
Finding the perfect combination of spring size, tension and resilience is an art that Vispring Beds has perfected over their 116-year history. Today all Vispring Mattresses and Divan Beds continue to be made by hand in Britain using their unique pocket springs and plenty of luxurious natural fillings for a superbly regenerative and restful night's sleep.
You spend a third of your lifetime in bed, which is why we do our utmost to make sure you get a Vispring bed that is absolutely perfect for you and the position you sleep in.
---
Vispring Beds
Nowadays, Vispring is a well-known name that has become practically synonymous with "quality". But what most people don't realise is that Vispring beds, or Vi-Spring beds as they used to be known, have been on the market since 1901 and were the first manufacturer to use individual steel pocket springs. Now, Vispring beds continue to be produced in England by highly skilled and experienced craftsmen. Their dedication to detail, from how the mattress borders are hand-stitched to how the springs are turned, is why Vispring is still known over the globe for creating world-class beds.
Vispring uses only the best natural materials in the manufacture of their beds and keep a firm hold on quality. This is why they produce every component by hand, even the springs, which are made from high-quality Vanadium steel.
We're passionate about helping people enjoy a restful night's sleep. This is why for over two decades our team of bed experts has been on hand to assist people in choosing a Vispring bed which meets all their exact requirements, from the level of support they need to the finishing touches of the bed design.
There is no better feeling than laying back on a new bed, particularly one that you've helped to create and that has been personalised to suit you. Plus, as all Vispring beds are tailor-made, they can match any décor and fit into any space, even the most unconventional like yachts. So, you can enjoy the top-most level of luxury and comfort with whatever Vispring divan bed you choose.
If you're ready to experience an undisturbed night's sleep, let our bed experts help you choose the perfect Vi Spring bed for your home. We will make sure it effortlessly combines skilled craftsmanship and the best materials to create a level of comfort which is not available anywhere else. We'll also deliver and install the bed free of charge using our experienced two man delivery team.
A bed is not something you want to buy every day or even every year, so it's crucial that you invest in a top quality product. We're confident in the quality and long lifespan of our beds and even offer a 30 year guarantee on Vispring Beds – the highest in the industry.