Beds - Small Emperor
With so many years under our belt, we are specialists in our field. We understand buying a luxury bed or a mattress is an investment and not something you do every day. So we take great care in understanding your needs, ensuring the correct level of comfort is chosen to support each customer, for a deep and restful sleep, every night.
We all have different requirements, whether it is our body shape and weight, budget or preferred style. We believe it is important to meet each and every one of these needs, so we offer a large, yet concise, collection of divan beds with pocket-spring mattresses (all with different tensions of comfort) including luxury brands Vispring and Hypnos, upholstered beds and headboards (with endless options for fabric) and wooden bed frames.
Tailor-made just for you.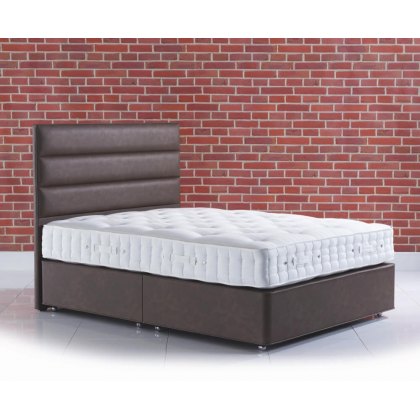 Deep Platform Top Divan Base by Hypnos
The Hypnos Deep Platform Top Divan Base is the perfect choice for somebody looking for a solid sleeping surface to give their mattress the firmest feel. It is also the most cost effective divan base type and allows for drawer storage. Upholstered in the Hypnos fabric of your choice.
Shallow Platform Top Divan Base by Hypnos
The Hypnos Shallow Platform Top Divan Base provides a solid sleeping surface for your mattress to sit on and is perfect for somebody looking to get the firmest feel out of their bed, whilst creating a contemporary bedstead look. Upholstered in the Hypnos fabric of your choice.
Deep Pocket Spring Divan Base by Hypnos
The 35cm Hypnos Deep Pocket Spring Divan Base is a luxurious sprung divan base offering excellent, responsive support and comfort. The Pocket Spring Divan Base will work together with your sprung mattress to deliver the very best in comfort and support.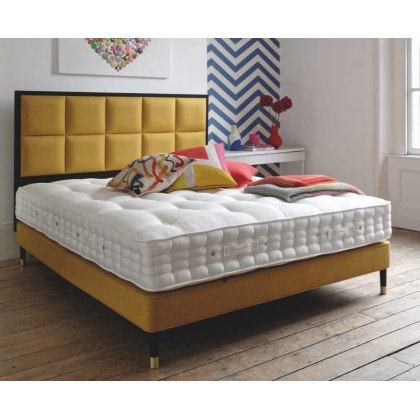 Shallow Pocket Spring Divan Base by Hypnos
The 15cm Hypnos Shallow Pocket Spring Divan Base is a luxurious sprung divan base offering excellent, responsive support and comfort in a contemporary style, allowing you to create a bedstead look. Choose from a wide variety of fabrics and legs to personalise your new Hypnos divan base.
J Marshall No. 1 Divan Bed
The J Marshall No. 1 is carefully crafted for a luxurious night's sleep. 1,000 individual pocket springs offer engineered support while tracing the natural curvature of your spine. Deep natural fillings of cotton, wool and bonded layered wool provide cushioning and maintain optimal breathability. These natural materials wick away moisture to keep your mattress at optimum quality. The horizontal handles conceal fine mesh air vents to ensure the mattress remains fresh. No.1 is wrapped in a soft-feel viscose and cotton Belgian Damask ticking for durable comfort. Quality craftsmanship is guaranteed with traditional hand tufting.
J Marshall No. 2 Divan Bed
No.2 packages luxury in an accessible and versatile mattress. 1,200 pocketed springs upholster your mattress for a fully supported night's sleep. With fillings made up of pure new wool, soft bamboo, sustainable Tencel and Alpaca – this is a superior comfort range that's designed with your wellbeing in mind. The natural materials used allow the mattress to breathe, giving you a more comfortable night's sleep. A Belgian Damask cover makes for a silky-smooth finish for optimal comfort.
J Marshall No. 3 Divan Bed
With 1,400 pocketed springs, the Plus Pillow Top is designed for exceptional depth of comfort and responsive support. No. 3 will contour your body to respond to every need and adjust pressure where needed. It's filled with an all-natural blend of materials: cotton, wool, sustainable bamboo, and soft alpaca and pashmina. For added support and comfort, J. Marshall have introduced an extra layer of memory wool to the mattress sleeping surface. A Belgian Damask ticking covers the mattress in breathable comfort.
J Marshall No. 4 Divan Bed
With 1,600 pocket springs and a further 1,500 micro springs, the No. 4 is the top of the range within the J.Marshall by Vispring collection. It's a highly responsive mattress designed for perfect spinal alignment: the high number of springs ensure this mattress will cushion and support in all the correct areas. It boasts a pure new wool and cotton hand tufted filling that will wick away moisture for a comfortable night's sleep. The integral Pillow Top layer is filled with wool, cashmere, silk, alpaca, bamboo, and pashmina – the optimal layering to keep your mattress fresh and dry. The viscose and cotton Belgian Damask ticking wrap the mattress in a final tone of natural elegance.
---
TAILOR MADE COMFORT JUST FOR YOU
Most people spend a third of their life (or an average of 25 years) asleep. That's why it's so important that these years are spent on a supportive, comfortable and stylish bed. Especially since the quality of your sleep is very crucial to your physical and mental health and wellbeing.
We're passionate about beds (as you can probably tell). In fact, we spend everyday talking and researching beds, and get so much pleasure from making our customers comfortable. The choice of the perfect luxurious bed for your home is an important one and we treat it as such. When you visit our local showroom or shop in the online store, you'll find an impressive collection of designer beds for sale. Our bed experts will be more than delighted to discuss your individual needs and show you a selection of luxury beds for sale. There's a bed for every taste and budget.
For those who are looking for something more, our luxury ottoman beds are a great choice. They come upholstered in a wide range of fabrics, with a solid base (for a firm and supportive feel) and an easy opening mechanism to reveal an abundance of storage. You can use it for storing bedding, blankets, towels, clothes and even shoes. To bring extra glamour and elegance to your master bedroom and guest rooms, consider luxury designer beds. Our range includes beds by master bed-makers like Vispring and Hypnos.
If you're looking for a luxury bed to replace your current one, or if you've recently redecorated and are looking for a bed to complement your new décor, come and see what we have to offer. Ours is one of the few bed shops with a truly impressive selection of premium high-quality beds. In fact, countless customers have told us that we have some of the finest luxury beds London has to offer.
With us, you'll find a large collection of stylish and contemporary beds including luxury wooden beds, white wooden beds and luxury upholstered beds, and more.
If you are looking for a bed which gives an unparalleled level of comfort and support, along with that luxury hotel feel every night in the comfort of your own home, consider a three-tiered solution for ultimate comfort. These are beds made up of three layers; a divan base, a pocket spring mattress and a luxury mattress topper. This really does deliver the ultimate comfort and an exquisite sleeping platform.
So, browse our extensive range of luxury beds online or visit us at our large bed showroom in the village of Rake, near Petersfield which is located in the picturesque county of Hampshire, on the borders of Surrey & West Sussex. We're only five minutes from the A3 and have ample free parking.