THIS ITEM IS UNAVAILABLE. YOU MAY BE INTERESTED IN ONE OF THESE ALTERNATIVES...
Hazel Natural Deluxe Mattress by Hypnos
The Hypnos Hazel Natural Deluxe Mattress from the New Natural Comfort Collection delivers a firm yet cushioned feel with great support and excellent value for money. Featuring layers of breathable soft wool, overlaid 3-zone ReActive™ 8 pocket springs. Made to order in the size and tension of your choice. Read more

9 reviews
Product Description
The Hazel Natural Deluxe Mattress by Hypnos is the firmest mattress within the New Natural Comfort Collection, which now incorporates the finest, responsibly sourced New Zealand Wool, and is an excellent choice for somebody looking for an excellent value, overall firm supportive feel, but with a good layer of cushioning from the all natural upholstery.
The Hypnos Hazel Natural Deluxe Mattress features a 3 zone ReActive™ 8 pocket spring system, whereby the central zone of the mattress has a greater number of honeycomb nested ReActive™ pocket springs providing targeted support to your hips and lower back, keeping your spine perfectly aligned from head to toe. Each spring has 8 active turns which move independently sensing the weight and shape of each person so that the springs perfectly contour you and your partner enabling you both to receive the correct level comfort and support for a deeper and more comfortable night's sleep. Uniquely tailored support optimises blood circulation, relieves pressure points and reduces tension in muscles
As part of the Hypnos commitment to sustainability, the pocket springs are upholstered with multiple layers of Wools of New Zealand™ wool and bonded wool, which not only delivers a wonderfully soft cushioning and regulates body temperature – but is farmed by families committed to the low environmental impact of responsibly farmed New Zealand Wool. All wool provided by Wools of New Zealand™ is traceable back to the producers, who take pride in perfecting the quality of the wool for its intended use.
The seasonal turn mattress is covered in the finest chemical-free Belgian Damask tick to provide an exquisite, soft and silky sleeping surface. It is tailored with 2 rows of genuine hand side-stitching to give structure and support to the borders of the mattress, and then hand-tufted to ensure the upholstery stays in place for longevity.
The Hazel Natural Deluxe Mattress is available in a Medium or Firm tension and is suitable for bed frames with slatted bases or divan bases. A sprung divan base will give the very best level of comfort and support, whilst a solid platform top will deliver a firmer feel. If you are looking for a complete new bed, take advantage of cost savings and buy the Hypnos Hazel Natural Deluxe Divan Bed.
Winners of the Bed Manufacturer of the Year Award and proud holders of the Royal Warrant, every Hypnos mattress is individually handmade and comes with a 10-year guarantee reinforcing their quality and commitment to the best of British craftsmanship.
Specification
Brand: Hypnos
Made in the UK: Yes
Mattress Spring Type: 3-zoned ReActive™ pocket springs with 8 active turns
Mattress Upholstery Filling: Wool & bonded Wool from Wools of New Zealand™
Mattress Borders: 28 cm – 2 rows hand side-stitching
Surface Finish: Finest Belgium Damask with hand-tufted wool tufts
Firmness / Support Level: Medium / Firmer
Guarantee:10 Years
Mattress Care: Seasonal Turning
Tension: Medium / Firmer
Why We Love The Hazel Natural Deluxe Mattress by Hypnos
Handmade in Britain, with a 10-year guarantee and a Royal Warrant to its name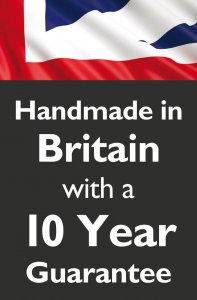 Combining British Craftsmanship with the finest materials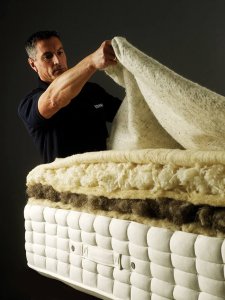 Hundreds of supportive pocket springs with genuine hand-side stitched borders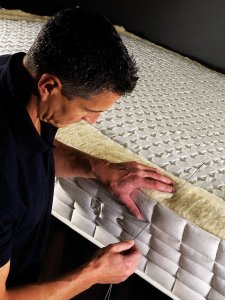 Customer Reviews
By
Mrs Boyce
on
12th August 2020
"The mattress was at the top of our price range but the quality definitely makes it worth the saving."

By
Peter Fisher
on
22nd June 2020
"As Above"

By
Sarah Cory
on
23rd January 2020
"As Above"

Read more
By
Monika Repka
on
16th September 2019
"We love our new mattress! Bought the zipped super king-size and it just made our sleep better. They are turnable and the medium tension is just right for what we need as we like to change sleep positions. It is very comfy both when sleeping on the side and on your front or back."

By
Marks & Ayling
on
18th July 2018
"Always help me find what is right for my clients."

By
Mrs Glaister
on
7th June 2018
"Comfortable good night's sleep."

By
Hilary Bance
on
31st July 2017
"Very comfortable, firm without being too hard. Only slight down side is it's much deeper than I realised, fitted sheets only just big enough!"

By
Mr McCourt
on
19th March 2017
"Great, very comfortable, good nights sleep"

By
Mrs Young
on
4th February 2017
"Only been a few days but, so far, enjoying very good sleep!"

Our Delivery Service
*Please note - Special Delivery Measures following Covid-19 Virus spread.
Covid-19 Safe Furniture Delivery Service
In accordance with the latest Government advice and to ensure the safety of both our customers and our delivery teams, we are operating Contact Free Deliveries making sure we keep to social distancing regulations, in particular when we deliver to the most vulnerable customers in our community. Our 2-man delivery service offers the following options to accommodate our customers' needs:
We can deliver items outside your home, in front of your door or placed in a safe place allowing a contact-free delivery.

We can deliver to your room of choice, where we can unpack and assemble the order if required and remove all packaging.
We can remove and dispose of your old bed or mattress on a like-for-like basis.
Please be assured safety for all remains our top priority. Our delivery teams have strict safety procedures in place, both in the warehouse and out on the road, including full personal protective equipment (PPE).


Covid-19 Safe Courier Delivery Service
Our couriers continue operating social distancing and contact free deliveries.

Large Item (Beds, Mattresses, Headboards, Sofa Beds and Furniture) delivery:
Charges
We offer a FREE 2-man white glove delivery and installation service nationwide for all orders over £500. This covers a standard mainland UK delivery, but excludes the Scottish islands and highlands. For orders under £500, we ask for a small contribution of £25.
For non-mainland UK and International deliveries, please contact our showroom, who will be able to discuss the delivery options with you.
Our "Normal" delivery and assembly service - which will resume as soon as safe to do so
We offer a 2-man delivery and installation service as standard on all large items to customers nationwide, using our in-house team or one of our specialist Delivery Partners. Our experienced delivery teams will carry your order to the room of choice, where they will unpack and install the item and remove any packaging, leaving you free to enjoy your new bed or mattress.
We will contact you ahead of the planned delivery to agree a mutually convenient delivery date, most commonly between Monday and Friday although weekends are sometimes possible. The day before the delivery you will receive a 4 hour timed slot, so you know when to stay in to receive your delivery. Then on the morning of the delivery, your 4 hour timed slot will be narrowed down to a more precise 2 hour window. They'll also endeavour to keep you updated should they run into a traffic jam, or get delayed by any unforeseen event. Once at your home the two man delivery crew will carry the item to your desired room, assemble the item (where this service has been selected or is automatically included), and will remove any packaging.
Recycling your old bed or mattress
Should you no longer have a need for your old mattress or bed, we can remove and recycle this item for you (on a like-for-like basis) when delivering your new order. There will be a charge of £30 per mattress or £60 per bed for this service.
Access
Please ensure when placing the order that the item will fit into your home and there is sufficient access to your room, for example around a tight bend in your staircase or through a narrow doorway. If you are unsure, then our showroom will be more than happy to discuss the access with you. This way we can do all that we can to ensure the item fits in. We always try our hardest to find a solution.
Small Item delivery via Courier (Bedding & Bed Linen):
Charges
We charge a flat rate of £6.00 using a Next Working Day delivery service for all smaller items such as bedding and bed linen. For customers who spend over £100 on Brinkhaus bedding we offer FREE delivery.
Service
Parcels will be delivered by a reputable, national courier and will require a signature on delivery, unless you request for the item to be left in a safe place or with a neighbour. In most instances, you will receive a text/email message on the day of the delivery (direct from the courier company) with a 1-hour timed slot. If that time slot is not convenient there will be various options on the message to leave in a safe place, deliver on a different day or leave with a neighbour, simply follow the instructions provided.
We deliver to all postcodes in mainland UK excluding some remote areas in the Scottish Highlands and islands. For areas outside of this, please contact us for a quotation.
Lead times
Our delivery lead times vary across our product range and are kept up to date and quoted in good faith on each product page.
Stock orders: We aim to dispatch all orders from stock on a 24 hour (next day) delivery service. For orders placed before 1pm, we will endeavour to dispatch on the same day. If the order is received after 1pm, it may be dispatched the following day.
In the rare and unfortunate event that we are out of stock of an item, we will notify you and will arrange for your order to be dispatched directly from the manufacturer to keep the lead time and carbon footprint to a minimum. We will update you on any changes to lead time if applicable.
If you have any queries regarding our delivery service or if you have a specific date to meet, please contact our showroom and we can advise you if that will be possible – you can be assured, we always try our hardest!
Delivery costs are applied per order, not per item.
For International Orders, please click here.
Please read our terms and conditions for further information.
Hassle-Free Returns
We want you to have the best experience with snuginteriors and recommend us to all your friends and family, to do this you must be happy with your order. If for any reason you are not happy and you wish to return your goods, we ask that you notify us in writing within 14 days of receipt of your goods. This 14-day period begins the day after you received the goods.
Please ensure you keep your order in perfect condition. This means unused, undamaged and, where possible, in the original packaging with the labels in tact.

For small items, we will ask you to
send the item(s) back to us securely wrapped to avoid any damage in transit via a recorded mail service, including your order number and receipt.

For large furniture orders, we will arrange the return/collection of the goods. Please note you will be charged collection for the item(s), unless it is faulty.
For hygiene reasons, mattresses, bedding and bed linen can only be returned if they are in their original packaging and have not been opened, or used in any way. Try the mattress with the packaging on to be sure you are happy first! We regret that we cannot cancel, refund or exchange a bespoke order that has been specially made for you (unless faulty). Read our full terms and conditions
here
.