Sustainable Beds, Mattresses & Sofas
For us, quality and sustainability will always come first, and that's why we work with award-winning brands recognised all over the world - from Vispring and Hypnos to The Fine Bedding Company, Devon Duvets and SITS.
All of our beds, mattresses and upholstered furniture, such as sofas, sofa beds and armchairs, are bespoke and handcrafted to perfection. The manufacturers that we work with use natural and sustainable materials of the most exceptional quality for long-lasting comfort.
As an independent retailer, we carefully select the brands and manufacturers who uphold the same philosophy as ours: a passion for high quality items, maintaining heritage, using environmentally friendly materials and production, and having an unparalleled attention to detail that guarantees relaxation and the perfect night's sleep.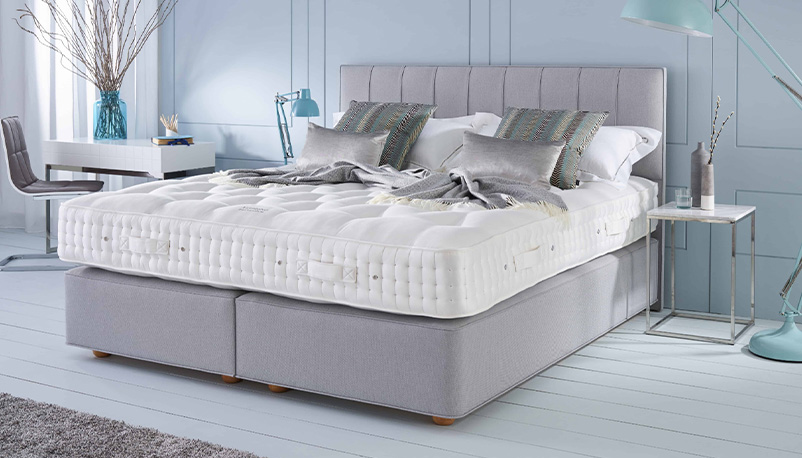 ---
Here are the reasons why we value the brands we partner with…
---
Vispring Beds & Mattresses
Vispring is known as one of the finest handmade bed manufacturers in the world. Vispring pioneered the pocket spring and in 1932 went on to create the world's first pocket-sprung divan, which, partnered with a pocket spring mattress, is known as the ultimate sleep experience.

High Quality & Sustainable Materials
Vispring uses natural, sustainably-sourced, and traceable materials in their beds and mattresses. The luxury bedmaker creates comfort from natural materials such as wool, silk, bamboo, horsetail and cotton. These fillings are soft, breathable, hypo-allergenic and fully biodegradable.
Vispring works with the Shetland Wool industry to obtain responsibly-sourced wool. With a quarter of Shetland Wool ring fenced for Vispring, it's clear they are serious about their commitment to using traditional, sustainably-sourced, British materials.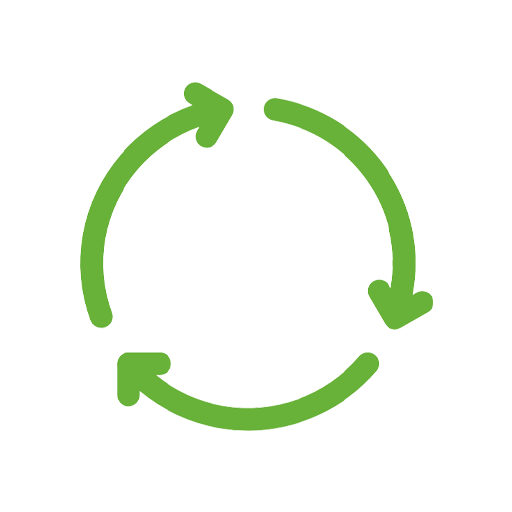 100% Free of Chemicals and Recyclable
As well as using only natural materials, all Vispring mattresses are free of plastic, polyester, foam or other man-made products or chemicals.
Vispring pride themselves on the high quality Devonshire and Shetland wool they fill their mattresses with. As wool is naturally fire-resistant, unlike foam or other synthetic products, there is no need for them to use toxic chemicals within their mattresses.
A mattress made with natural materials will work in harmony with your body to regulate the temperature in your bed, providing a luxurious sleeping surface.
Plus, when it is time to replace your Vispring mattress, your old one is 100% recyclable at the end of its life.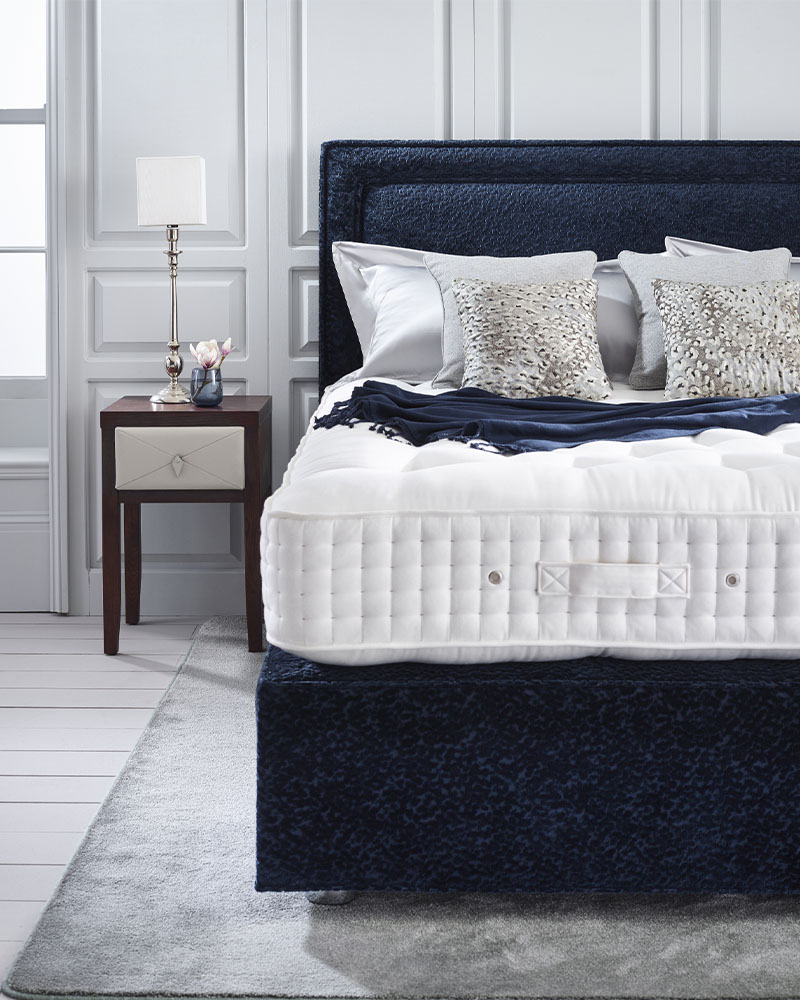 ---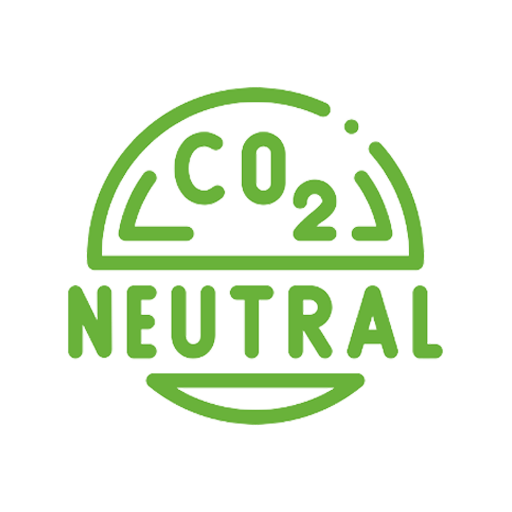 Carbon Neutral Pledge
Vispring acknowledges the role they play in using the planet's resources and have committed to significantly reducing their carbon footprint by the end of 2022, with a goal of being carbon neutral at their Plymouth factory by 2025.
Vispring uses slow grown Scandinavian softwood and hardwood to construct its timber frames, with no particle board or MDF. All their timber has Forest Stewardship Council (FSC) accreditation, guaranteeing sustainability and traceability.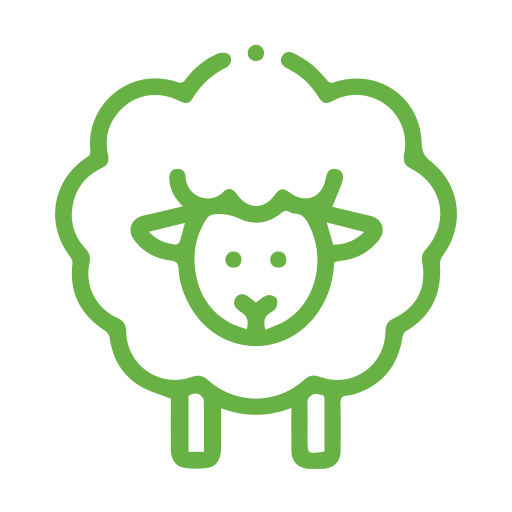 Working for Shetland Wool
Vispring is the first UK bedmaker to be granted the prestigious Woolmark quality assurance certification. With this they have nurtured a long-standing fairtrade policy with the Shetland Wool industry. This initiative helps keep the traditional process and trade of sheep shearing alive and the farmers can thrive.
The Vispring commitment to buying local and not from overseas ensures this ancient practice is preserved for more generations.
Shop Vispring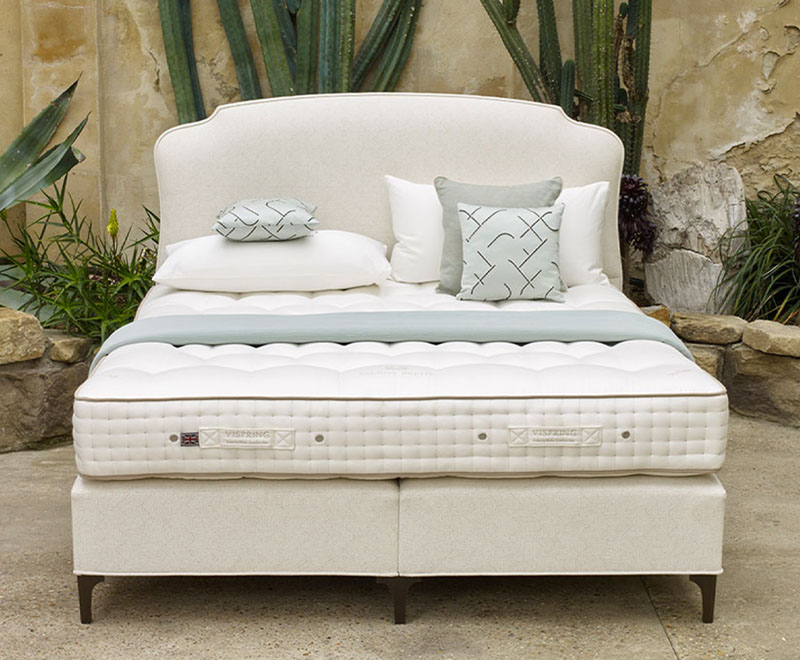 ---
Hypnos Beds & Mattresses
The British bedmaker, Hypnos, is leading the way when it comes to sustainable sleep, creating sleep solutions that offer customers real comfort with integrity.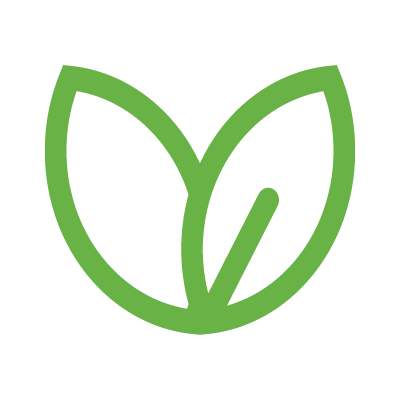 Ethically and Responsibly Sourced Materials
Hypnos have a long-standing ethical approach to every aspect of bed making and believe the perfect night's sleep starts by using the finest sustainable materials.
Hypnos uses up to 8 fleeces in every mattress which is 100% traceable to British Red Tractor assured farms. Their partnership with Red Tractor ensures materials are responsibly sourced and produced to high standards. Every part of the wool's supply chain is robustly audited; from the collection to washing, to the combing of the wool and finally its delivery to the Hypnos factory in Buckinghamshire. This process allows Hypnos to deliver comfort with integrity, a vital component in a luxury mattress.
All of the timber in a Hypnos divan base is from sustainably managed forests that are both FSC and PEFC compliant.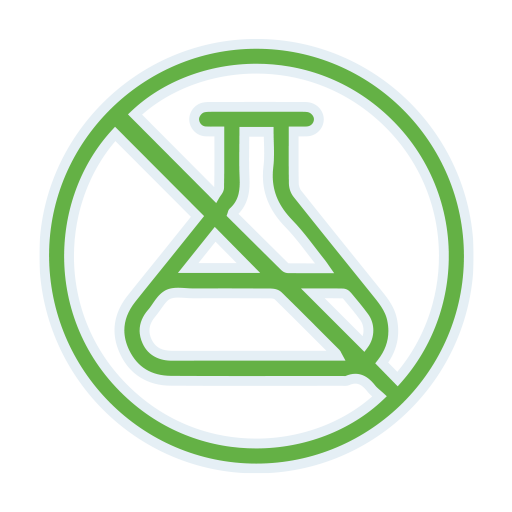 Free of Chemicals & Recyclable
All Hypnos mattresses have been free of chemical-based foams for over 12 years. All their new mattress designs also include a FR chemical free sleeping surface.
All Hypnos mattresses (see Origins collection) are 100% recyclable, so there's no need for them to go to landfill.
Hypnos also use eOlus™ fibres made from recycled plastic bottles which offer resilient body support whilst allowing air and moisture to pass through the materials easily. In doing this, they're working towards reducing the amount of plastic floating in our oceans.
Hypnos' reputation as one of the most comfortable bedmakers in the world comes from using the finest natural materials in their mattresses, plus sustainable and low carbon materials.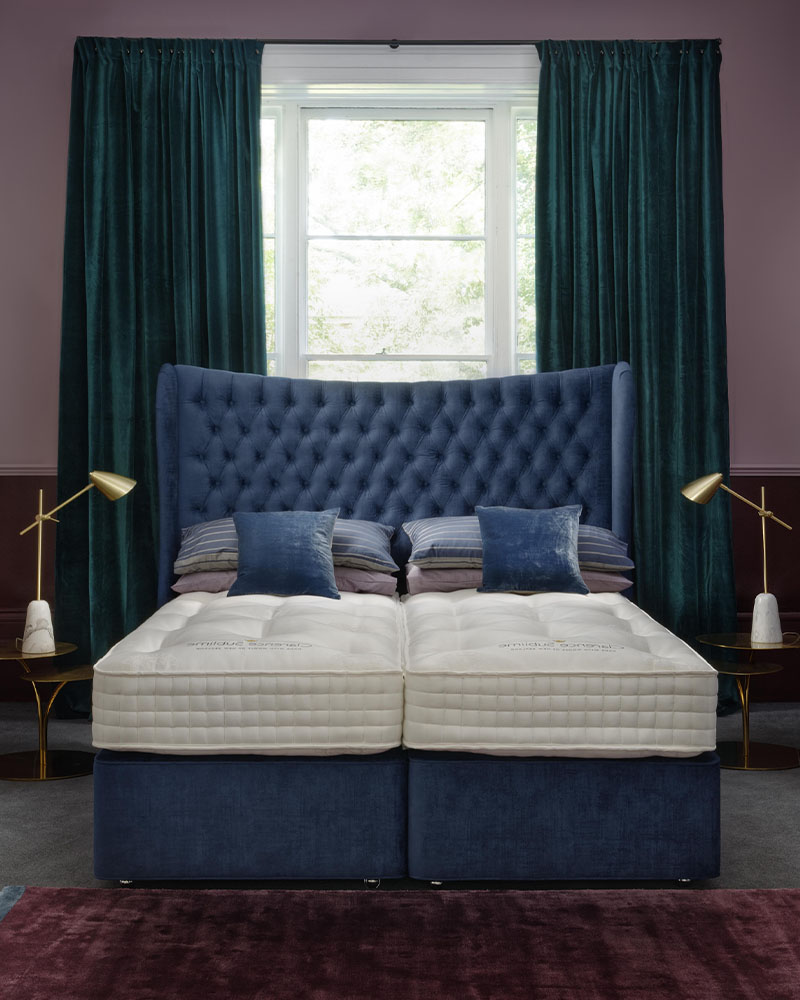 ---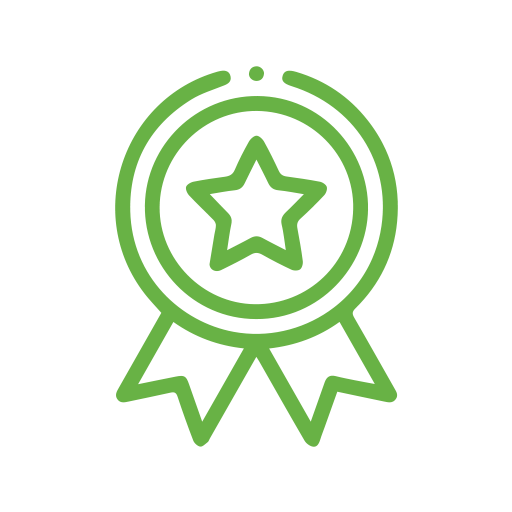 Award-Winning, Carbon Neutral Production
At Hypnos, sustainability is at the heart of everything they do. In the past decade they became the world's first carbon neutral bedmaker, and in 2020 they won the Queen's Award for Enterprise for Sustainable Development. They are the only bedmaker to have held the title of 'carbon neutral' since 2011.
Hypnos has a reputation for making the most comfortable beds in the world. This is evident from the Royal Warrant they received from Her Majesty Queen Elizabeth II.
They are the only bedmaker in the world to have won the NBF's "Bed Manufacturer of the Year" three times. They also gained the prestigious Queen's Award for Enterprise for International Trade in 2017 and for Sustainable Development in 2020.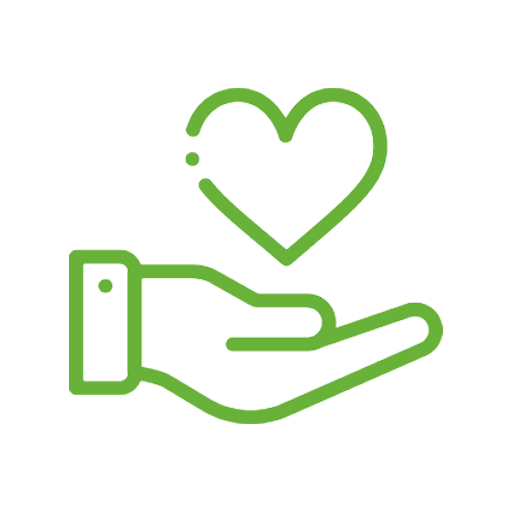 Working for Local Communities
Hypnos pride themselves on using natural and sustainable materials, such as wool, cotton, flax and hemp. They work in partnership with farmers to ensure the materials are traceable and certified to their origins. By investing in a world class Hypnos mattress you can sleep easy, knowing you have contributed to the progression of the British farm industry.
Hypnos also works with the Better Cotton Initiative and CottonConnect to ensure traceability within their cotton supply chain.
Shop Hynpos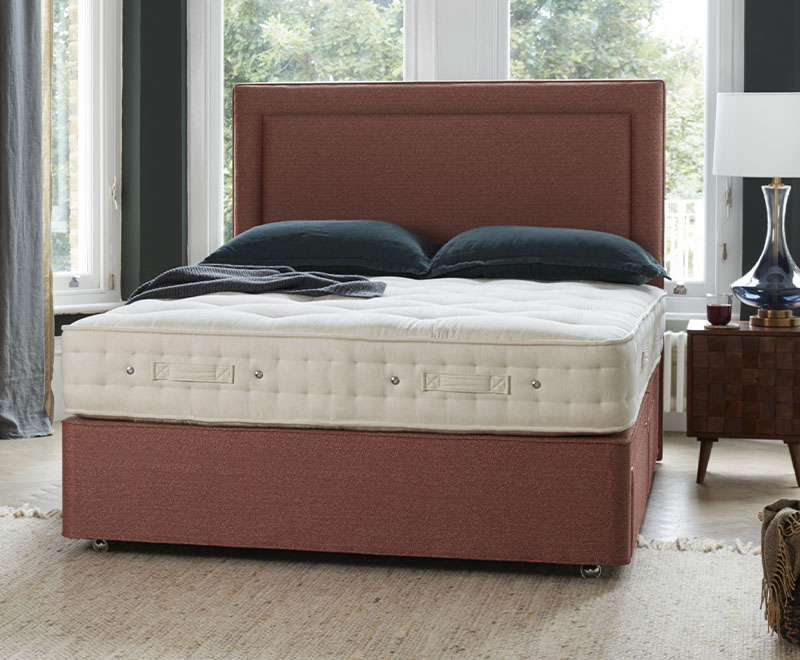 ---
---
The Fine Bedding Company Bedding
The Fine Bedding Company employs innovation, ethical sourcing and sustainable production to create highly luxurious, washable pillows and duvets.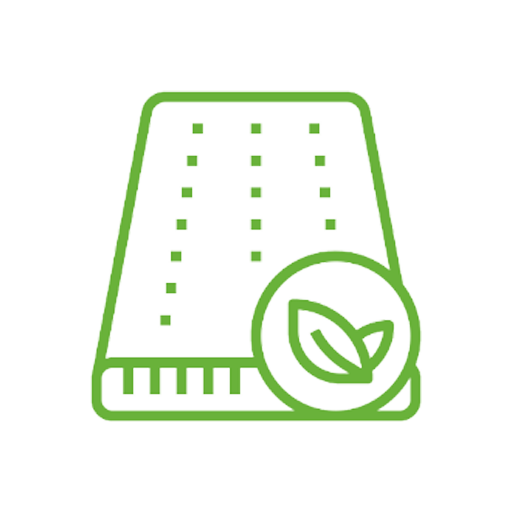 Natural Materials & Smart Technology
The Boutique Silk range combines pure, natural silk with Smartfil® technology to deliver a heavenly hotel sleep experience in the comfort of your own home. The use of advanced Smartfil® technology regulates body temperature and keeps allergens at bay, offering the perfect solution for breathable comfort.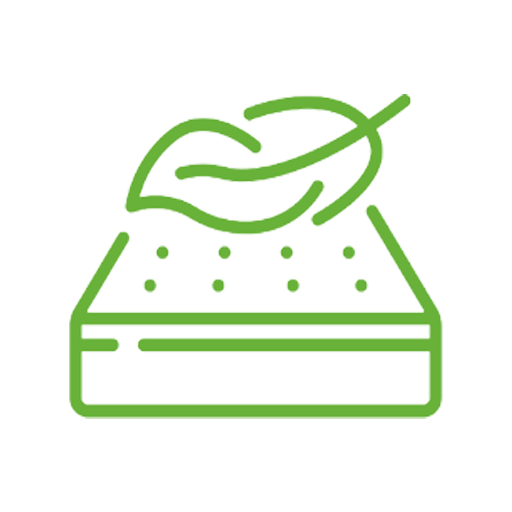 Soft, Natural Comfort
The Fine Bedding microfiber duvet fillings use 25% less polyester than similar competitor products, and the majority of the cotton is sourced through Better Cotton Initiative sources.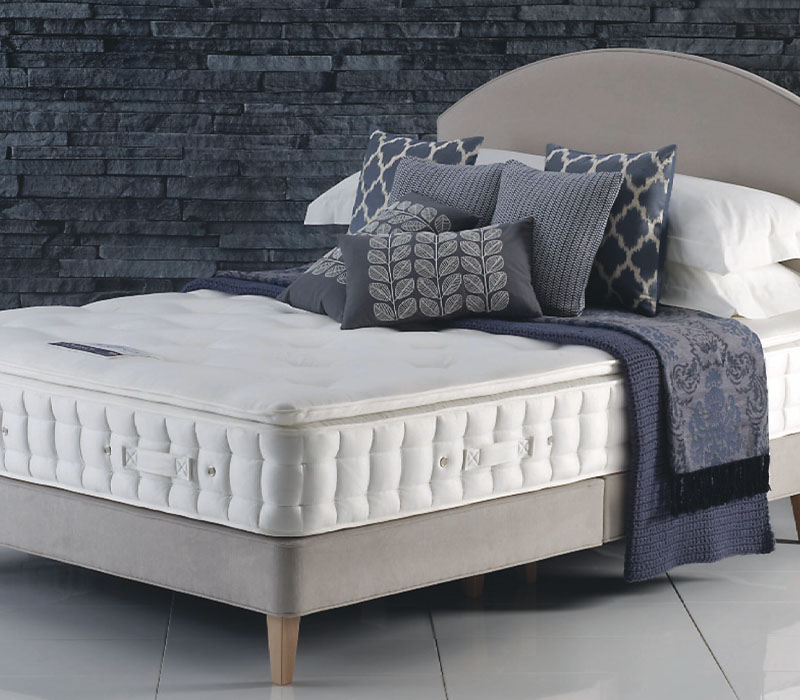 ---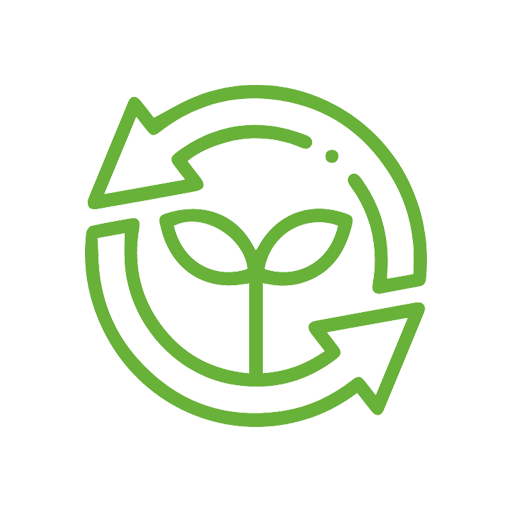 Low Carbon Production & Recyclable
The Fine Bedding duvets have a 19% lower carbon footprint than the industry standard, and 90% of their waste is recycled.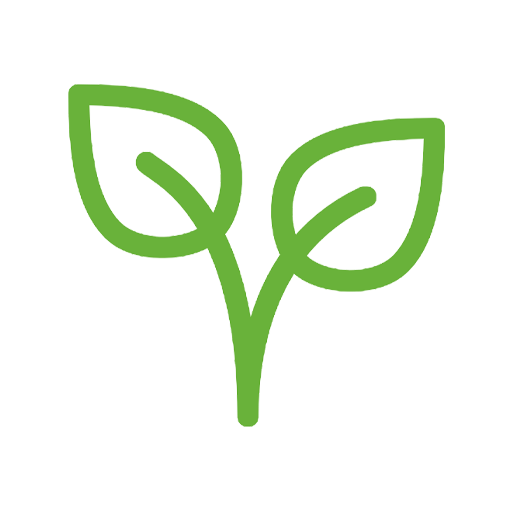 Ethical Sourcing & High Animal Welfare
The Fine Bedding Company is the first bedding company in the UK to carry the prestigious Downpass seal, certifying that their products are of a guaranteed quality, using responsibly and ethically sourced materials, and have incurred no live plucking, whilst being fully traceable.
Shop The Fine Bedding Company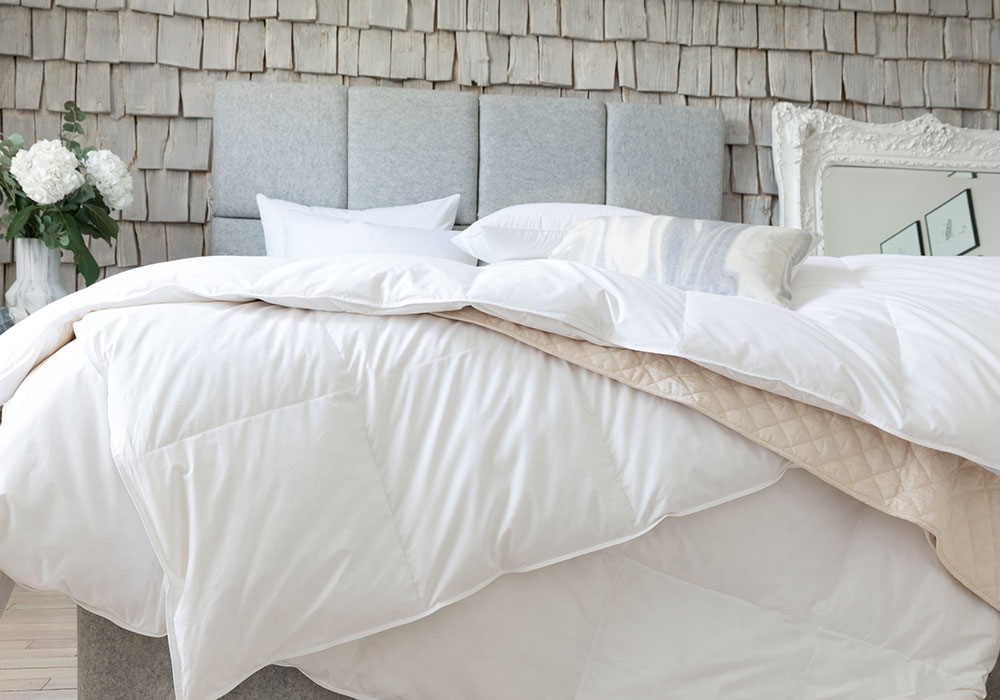 ---
Devon Duvets
Devon Duvets create high quality duvets from natural, eco-friendly 100% British wool. They have a best-of-British philosophy which is reflected in the handcrafting which takes place in Devon.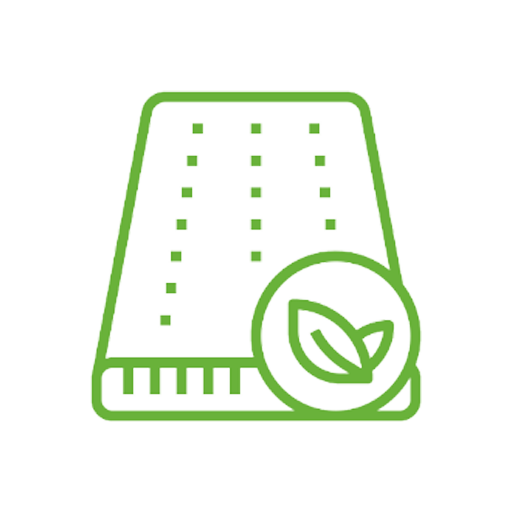 Naturally Beneficial to the Environment
With 100% natural wool, Devon Duvets ensures the wool they use stays as it is - free of chemicals. This is good news for the environment and for you. By keeping their wool natural, their bedding works to achieve better sleep patterns. It is temperature regulating, breathable and hypoallergenic.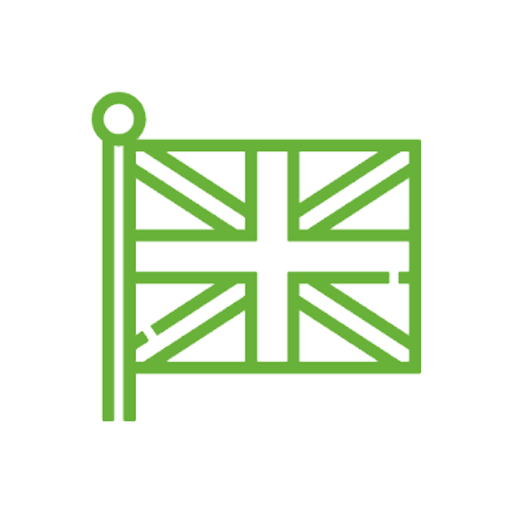 Helping British Farming
Devon Duvets use 100% British wool that has been purchased by local farmers. By working with the British Wool Organisation, which helps to market and sell wool for British farmers, they ensure their wool is authentic, traceable and 100% British.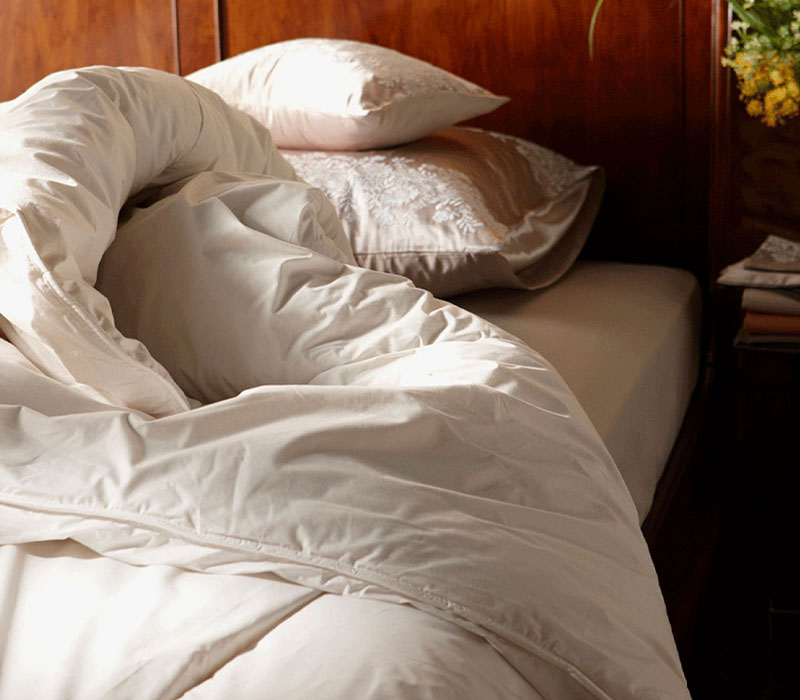 ---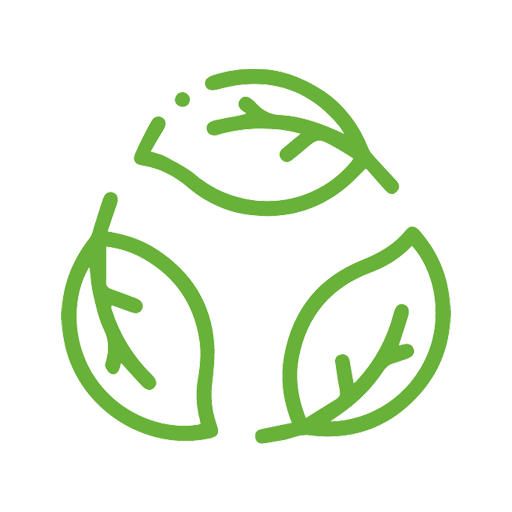 Eco-Friendly Values
One of the many benefits of 100% traceable, British wool that is handcrafted in Devon is knowing you're reducing your carbon footprint for the environment. By using British wool and local craftsmanship, you are truly getting a sustainable and British duvet.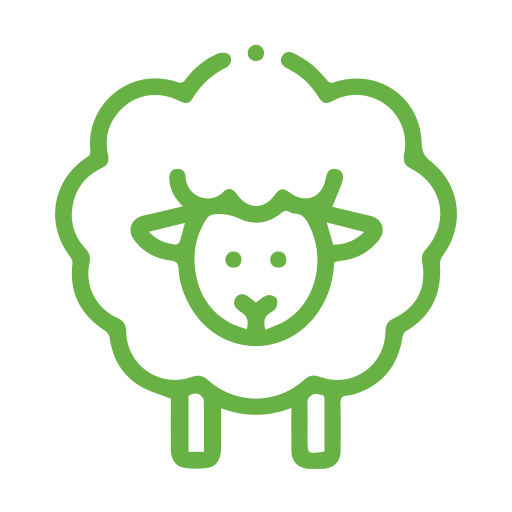 Ethical Sheep Shearing
Devon Duvets work with farmers who only shear their sheep when the sheep need it. This occurs in spring and summer to stop the sheep from overheating, relieves them of a heavy fleece and reduces the risk of disease. By taking great care of the sheep their wool is of the highest quality.
Shop Devon Duvets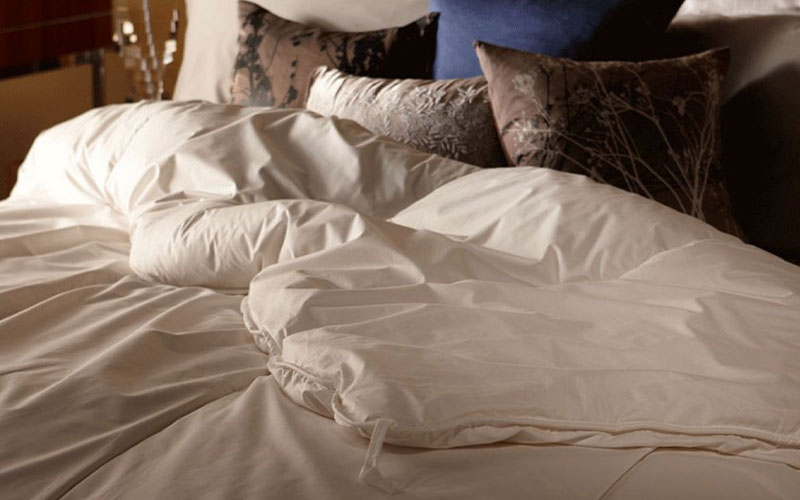 ---
Why You Should Choose Sustainable Mattresses and Sustainable Beds
We believe that you should invest in a sustainable mattress and sustainable bed because:
Natural, sustainably-sourced and traceable materials are soft, hypo-allergenic and breathable, so your health and comfort are always taken care of.
Brands that value sustainability are transparent about where their materials are sourced, reassuring you that your investment has contributed to local farming communities and animal welfare.
They can be recycled at the end of their life. The sustainably-sourced materials found in these mattresses and beds are naturally biodegradable so you won't be contributing to more landfill waste.
We hope you will consider a sustainable mattress and sustainable bed for your sleep upgrade. Helping the planet whilst investing in your overall health and wellbeing.
Contact a Bed Expert Today
---
---