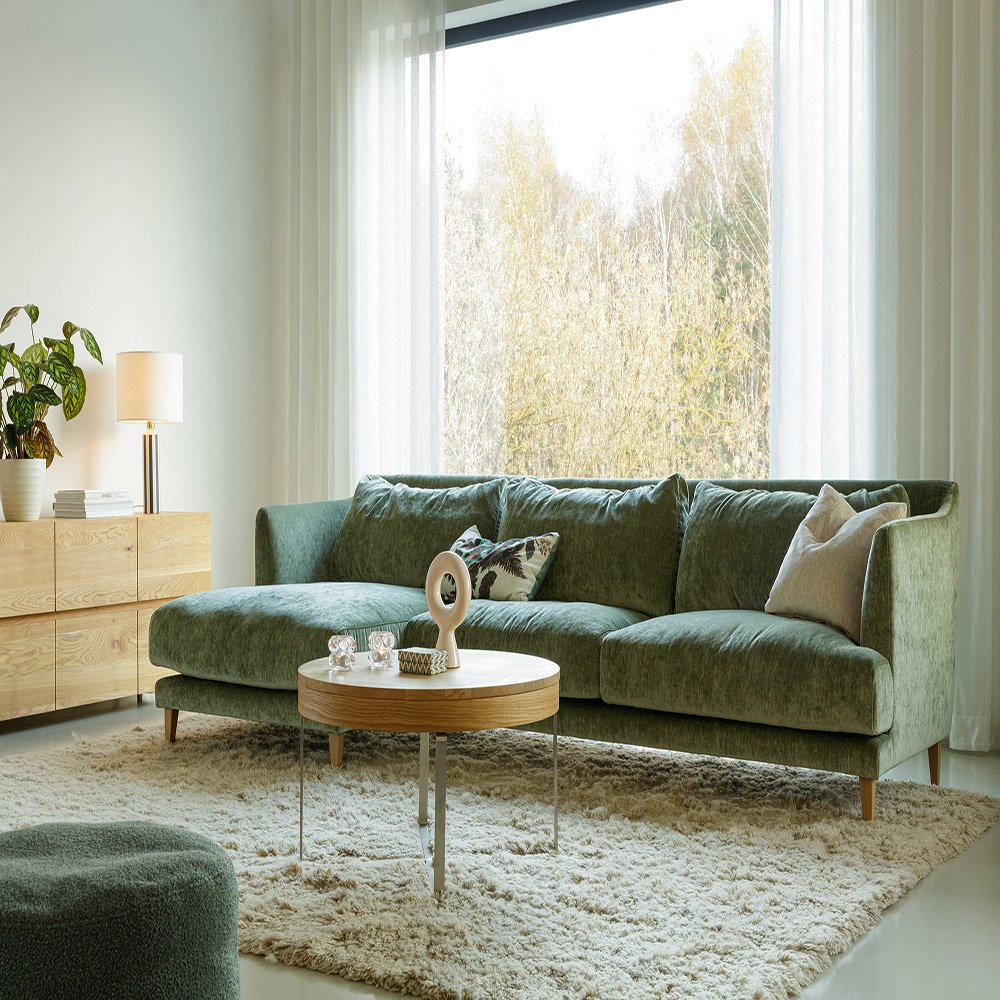 SITS Vera Sofa & Armchair Collection
Introducing the Vera collection by SITS: where modern elegance meets low-key luxury. The Scandi brand takes a more formal approach to its latest sofa range, resulting in a tailored silhouette that exudes refined style in the home. High back cushions, gently curving armrests and a slender base epitomises this stylish collection, evoking the sophistication of a premium piece of furniture one might find in a boutique hotel.
And while Vera may be chic, there's more to this range than mere aesthetics. Plump cushions and an extensive choice of sumptuous fabrics make this furniture assortment inherently comfortable too. It even comes complete with a handy footstool – that'll make a welcome sight after a long day on your feet.
Browse the full range here at snuginteriors to curate your perfect seating set-up. Discover Vera's space-saving two-seaters or choose its luxurious chaise sofa and cosy loveseat to match. Each piece lets you customise the leg finish and fabric, so you can create a look that's truly 'you'.
Please see the product card to view all available dimensions.
SITS Vera Armchair
The Vera armchair by SITS is one for those who appreciate finer, more understated details, in a contemporary aesthetic. Discover more below about what makes this armchair by the Scandinavian design extraordinaire so irresistibly appealing.
SITS Vera Loveseat
Refined elegance meets low-key luxury with the SITS Vera Loveseat. This premium piece of furniture looks perfectly at home in contemporary settings, and comes in a wide range of fabric options for a truly bespoke look that complements your decor.
SITS Vera 2 Seater Sofa
Space saving doesn't have to mean sacrificing style – just look to the SITS Vera two-seater Sofa for proof. Its compact yet refined design slots right into smaller living spaces with contemporary flair – and it even comes in range of fabric choices so you can create a look that's truly 'you'.
SITS Vera 3 Seater Sofa
With its high back cushions and slender armrests, the SITS Vera three-seater sofa evokes a refined elegance in your home. Discover more about this luxurious sofa design below.
SITS Vera Medium Chaise Sofa
The SITS Vera Medium Chaise Sofa is where modern elegance and low-key luxury meet. Scandi brand SITS takes a more structured approach with its latest sofa design, resulting in a tailored form that exudes refined style in the home.
SITS Vera Large Chaise Sofa
The largest in the Vera range with three spacious seats and a chaise corner, this deluxe sofa by SITS makes a luxury addition to your living space. It takes a more structured form, with high back cushions and slender armrests, resulting in a refined look that instantly elevates your interior.