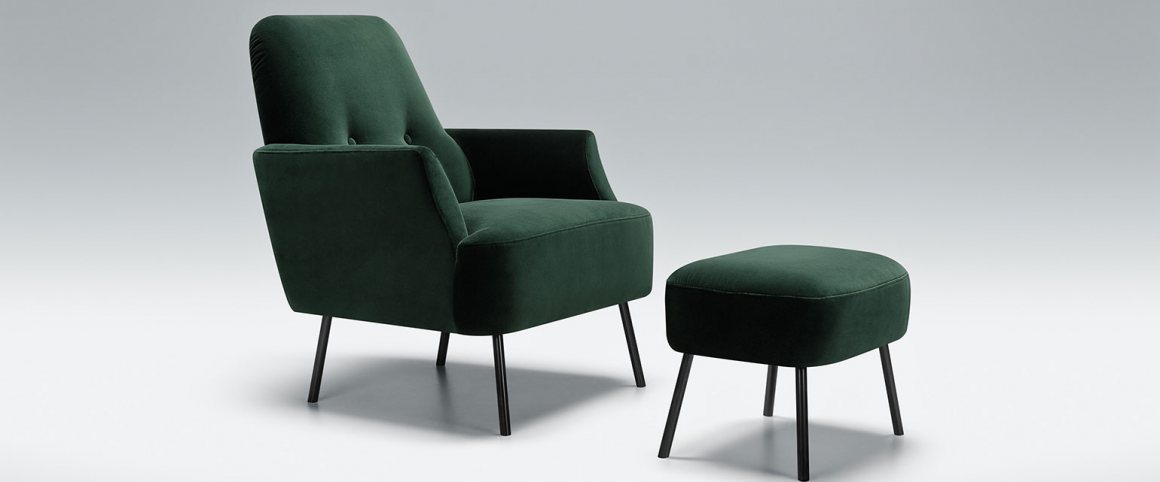 SITS Play Armchair & Footstool Collection
A family of five, the Play Collection is a group of armchairs, individual in design yet cohesive as a set. Like a family, each has its own function and personality, making for an exciting and dynamic aesthetic. Pop is simply chic, featuring smooth curves and button details, while Swing stands tall with angular wings. Non-identical twins Tune and Funk may have their similarities but look closely, and you'll find differences in their form. Last but certainly not least, Solo emulates Pop in its simple and minimalistic look, restoring balance to this playful collection.

Upholstered in fabric or leather, all armchairs come with the option of a matching footstool fit for a cosy reading nook. Choose from wood or metal legs to finish the look. Please refer to the product card for extra details on the Play collection.
SITS Play Footstool
SITS have created a one-size-fits-all footstool, which complements every armchair in the Play collection. A minimal design and long slender legs takes Scandinavian styling to the next level. Choose from five different wood colours or go for metal legs, painted black or grey for an ultra-modern finish.
SITS Play Solo Armchair
Evidently inspired by Scandinavian simplicity, the Solo armchair from the Play collection will no doubt breathe elegance into your interior. Smooth, clean lines with minimal detail will ensure your decor is always looking fresh and effortless. Choose from wood or metal legs, painted black or grey to adapt the style to your desired look.
SITS Play Pop Armchair
Simply chic with a little difference, Pop, from the Play collection, is an armchair for a minimal interior in need of some detail. The structure and form emulate Scandinavian design, while the button detail and arm shaping add depth and interest. Keep it cool in leather or go for something sumptuous like velvet for a plush comforting look.
SITS Play Swing Armchair
Make a statement with the Swing armchair from the Play collection. Angular wings and button detailing characterise this bold armchair, making it the perfect match for a courageous interior. Keep it traditional with wooden legs, or go for a modern look with grey or black-painted metal.