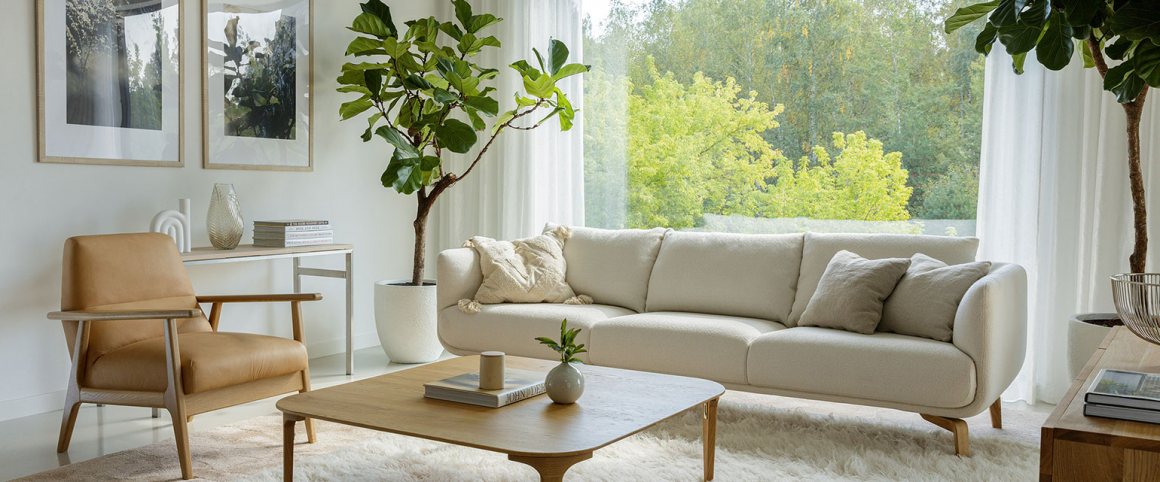 SITS Moa Sofa & Armchair Collection
A distinctive design, with high angular legs and elegantly curved lines, gives the Moa sofa collection from SITS unmistakable character. Adding this unique sofa design to your home will undoubtably elevate the look of your interior, infusing it with a chic urban sensibility. And while aesthetics may be high on the agenda in the Moa collection, so too is the brand's signature comfort and functionality.

Expect to find a wide range of customisation options that allow you to create a seating set-up that's completely tailored to you and your room. Choose from traditional two, three or four-seater models, or look to the modular sofa system for additional options such as corner seats, end benches and chaise longues. There are dozens of fabric types available too, and a wood or metal leg finish.

Please see the product card to view all available dimensions and configurations.

SITS Moa 2 Seater Sofa
Infuse your home with a chic urban edge with the Moa Two-Seater Sofa from SITS. High angular legs and gently curving lines give this model unmistakable character. Explore the extensive range of fabric types and other finishes to help make this design truly yours.
SITS Moa 3 Seater Sofa
SITS are renowned for their ultra-contemporary designs, and the Moa Three-Seater Sofa is proof of that. A stylish shape, that nods to mid-century style, is complemented by angular legs which lift the sofa off the floor, creating an airy feel in your living room. To customise your Moa sofa, explore the product card to find a range of fabric and leg-finish options.
SITS Moa Medium Chaise Sofa
Smooth, elegant styling gives the Moa Medium Chaise Sofa from SITS contemporary appeal in your home. Lounge in luxury on the Moa's roomy l-shaped corner seat, and choose between a left or right orientation to slot seamlessly into your room, along with the fabric and leg style of your choice.
SITS Moa Large Chaise Sofa
Have you ever seen a more stylish sofa? The Moa Large Chaise Sofa model from SITS has elegant curving lines and high angular legs, which work hard to bring an ultra-contemporary look to your room. Plus, with dozens of fabric options to choose from, you can tailor its design to suit your decor.