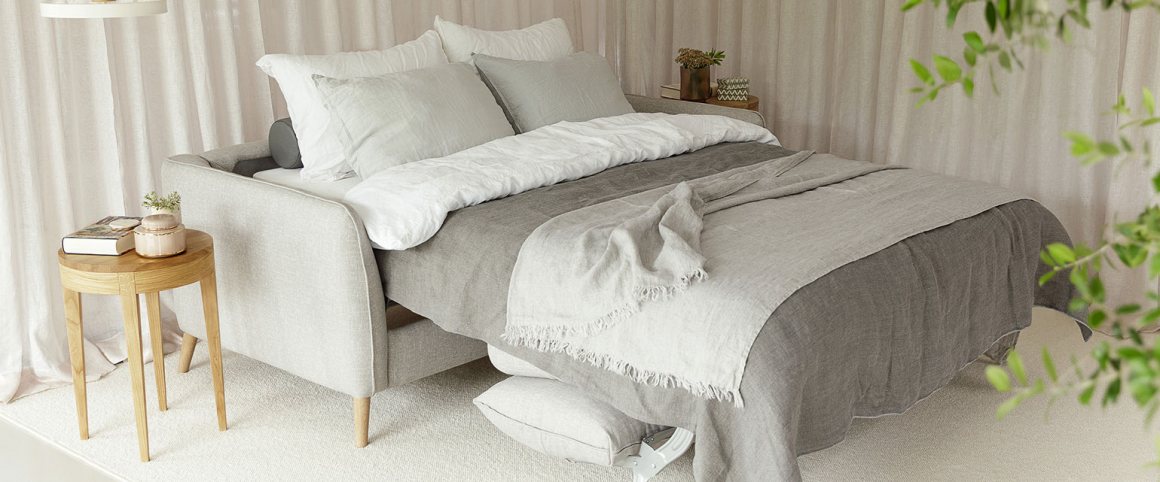 SITS Lucy Sofa Bed Collection
Form and function come together with the Lucy sofa bed collection from SITS. By day, this range's models appear as a stylish sofa with slender splayed legs and a minimal silhouette, and by night, they transform into a comfortable bed, ready for visiting guests and cosy film evenings alike. There's even the option of an additional storage unit within the sofa for extra functionality.

As with all SITS' collections, you can expect to find a wide choice of customisation options to allow you to create a set-up that's completely tailored to you and your room. Choose from sofa bed designs with three or four seats, and those with left or right chaise longues. The legs come in four different options, made either from wood or metal, and there are over 15 fabric types to pick from.

Please see the product brochure to view all available dimensions and configurations.
SITS Lucy Medium Sofa Bed
With its slender armrests and minimal detailing, the SITS Lucy Medium Sofa Bed, a Three-Seater model, creates an understated look in your living room. Its refined silhouette is matched by a sophisticated fold-out mattress mechanism – simply locate the bar between the back cushions to open out the bed, whilst the cushions stay perfectly in place.
SITS Lucy Large Sofa Bed
Transform your seating area into a cosy sleeping space at a moment's notice with the SITS Lucy Large Sofa Bed, a Four-Seater model. Its easy fold-out mattress mechanism means you can have a bed, with a mattress width of 160cm, set up within seconds. And, when it's not being used as a bed, the sofa appears as a stylish Scandi-inspired design, with modern high legs and minimal detailing.
SITS Lucy Medium Chaise Sofa Bed
The Lucy Medium three-seater Chaise Sofa Bed from SITS proves that multi-functional furniture can be stylish too. Its slender high legs and slight frame creates an understated look that nods to sleek Scandi style. And when you have guests staying over, simply locate the bar behind the back cushions to open out a comfortable mattress, whilst the cushions remain perfectly in place. Plus there is a handy storage box (perfect for the bed linen) in the chaise seat.
SITS Lucy Large Chaise Sofa Bed
You really can have it all with the Large Lucy Four-seater Chaise Sofa Bed from SITS. This multi-functional corner model not only combines a sleek Scandi design with a comfortable mattress, but it also comes with built-in storage. Plus, there are dozens of fabrics types to choose from and other customisation options available.