How To Choose The Perfect Pillow
---
---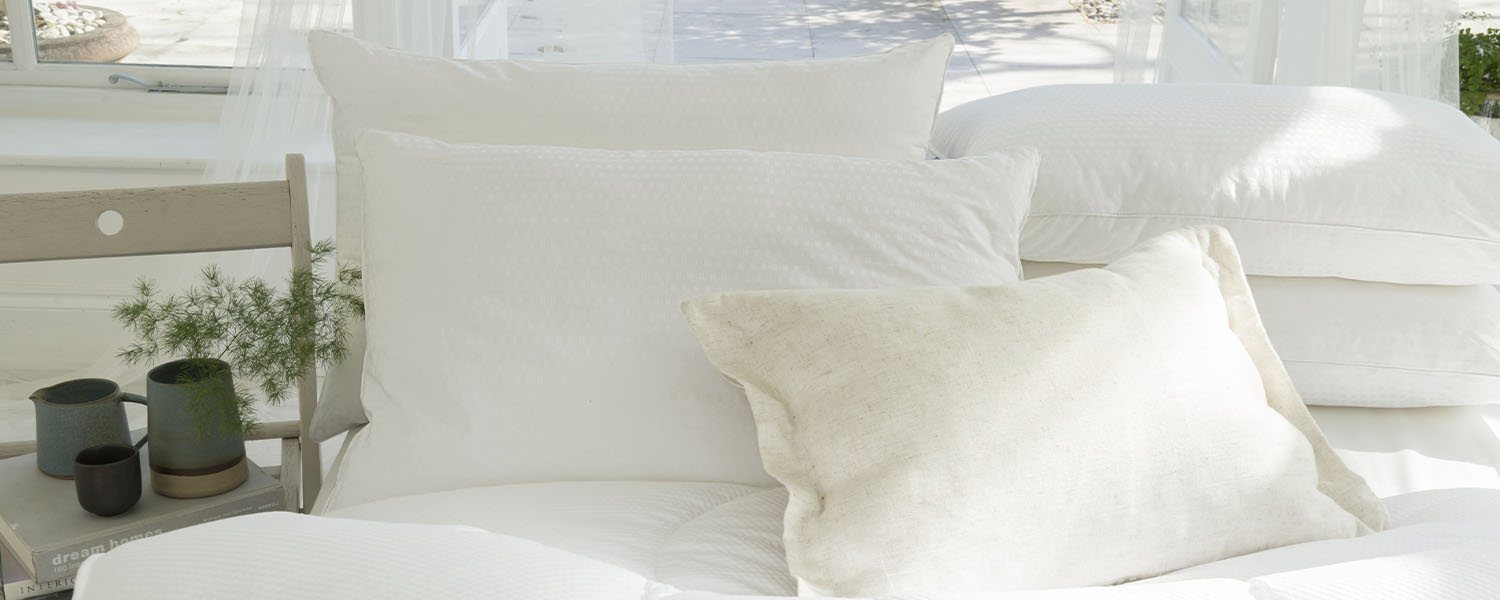 ---
Our Guide To Finding The Perfect Pillow
1. What type of filling suits you best?
There are two types of pillow fillings; man-made, synthetic fillings or natural fillings.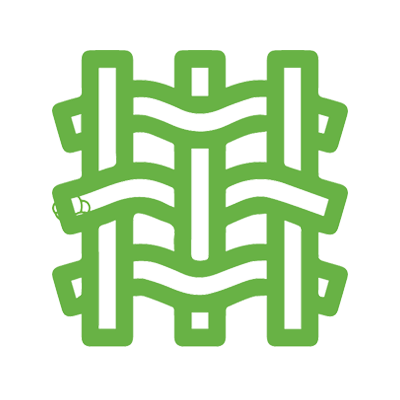 Synthetic fillings
Best for allergy sufferers. Rhinitis, asthma or eczema can be exacerbated by some natural materials, so opt for man-made for peace of mind.
Even if you don't have allergies, synthetic filled pillows have many more great benefits. They are conveniently washable and can include specialist technologies.
The Fine Bedding Company utilises an innovative Smartfil® Cluster fibre filling which ensures their pillows remain plump.
Shop Synthetic Pillows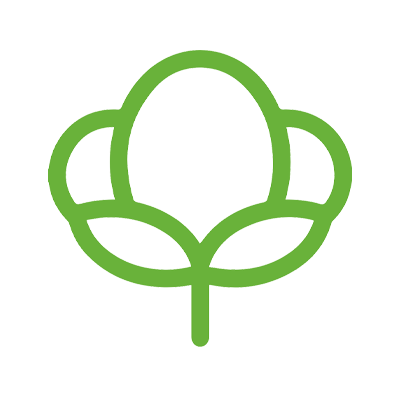 Natural fillings
Choose feather and down. This creates soft, breathable, temperature regulating and eco-friendly pillows. For example, choose a higher feather percentage for more support or a higher down percentage for more softness and cushioning. All of our natural fillings are ethically sourced and meet strict animal welfare standards. Wool pillows, like those at Devon Duvets who use 100% British wool, are gorgeously soft, hygienic, eco-friendly and hypoallergenic.
Another option is natural latex like pillows from Hypnos. This is formed from a white, milky liquid (also known as sap) which is collected from rubber tree plantations. It is a highly resilient product that instantly recovers its shape once pressure is relieved, making it an excellent component for pillows as it perfectly adapts to your sleep position. Not only does it give a wonderful cradling sensation, it is also very supportive and has anti-allergenic properties.
Shop Natural Pillows
All our partner bedding brands create pillows with high quality fillings, whether they're synthetic or natural. You can view them here on our website or call us and we'll be happy to answer your questions.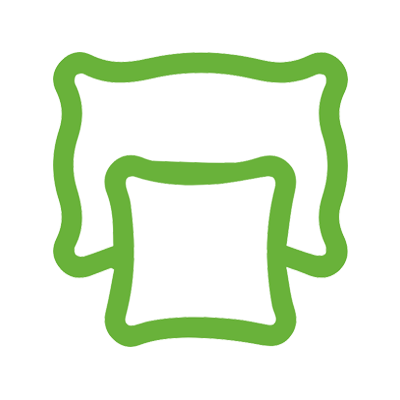 2. Choose the perfect pillow cover.
Your pillow cover should be soft and breathable. We lose between 2-4 pints of moisture from our bodies every night and a third of this comes from our heads. So it is critical to find pillows that are breathable and can be washed and aired easily.
At snuginteriors, we feature pillows with 100% cotton covers that allow optimum breathability and freshness. Cotton covers feel so luxurious and add elegance to your pillow selection.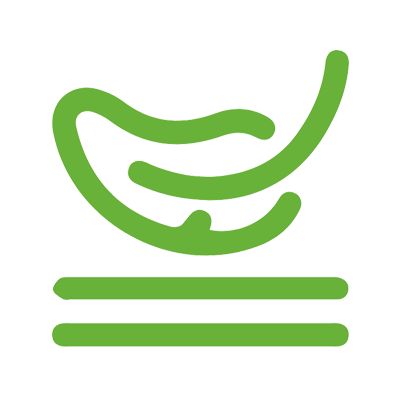 3. What level of support do you need?
You can work this out by deciding what your preferred sleeping position is. You can find the perfect pillow to match your sleeping position.
Medium soft - if you are a front sleeper go for medium soft pillows as these offer increased cushioning and comfort.
Medium for back sleepers - medium support pillows offer the right level of support to cradle the head and neck.
Firm for side sleepers - with an enhanced level of support, firm pillows will keep the head and neck in a neutral position throughout the night.
Specialist - if you suffer from head, neck or back pain, a specialist support pillow could alleviate pressure on these areas for a better night's sleep.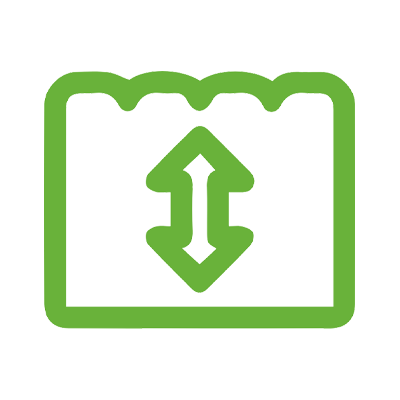 4. Consider pillow height.
Some pillows can leave you tossing and turning all night and it might be because you have the wrong pillow height for your needs.
You might notice the term as 'pillow loft' and this refers to the thickness of the pillow.
Finding the right pillow height for you is important as the wrong pillow height can change the alignment of your spine.
If you sleep on your front, you'll probably prefer a slimmer pillow, whilst the perfect pillow for a back sleeper would be a medium depth pillow. The perfect pillow for a side sleeper will often be a deep pillow with a box construction, so that there is depth to support your neck and keep it aligned with your spine.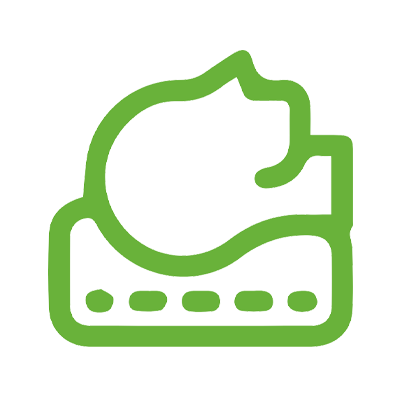 5. Have you got a longer or shorter neck?
A longer neck will feel benefits from the middle of the pillow whereas those with shorter necks will feel more at the edge of the pillow.
Try to remember this when you're searching for the perfect pillow, the more detailed you are, the more benefits you'll get.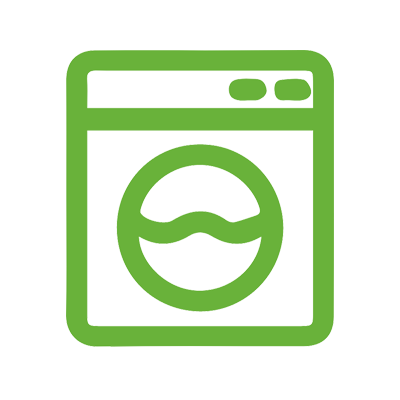 6. Pillow maintenance and hygiene.
This is important, make sure you choose a pillow that is washable from brands that consider hygiene. By choosing a hygienic sleep surface, you're reducing the risk of dust mites developing in your bedding. You can also use a pillow protector to keep your pillows fresh.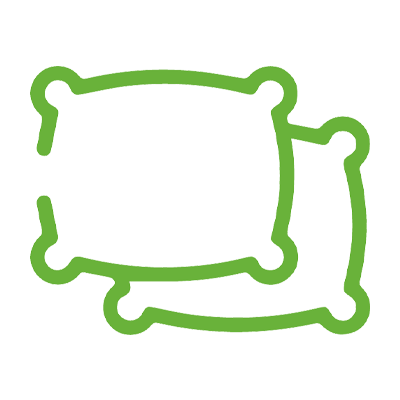 7. Pillow sizes.
Our pillow sizes come as follows:
Standard 50cm x 75cm which works across all beds
King 50cm x 90cm for Super King sizes and above
On Super King sizes, people will often use two King size pillows as the bottom pillow then dress the bed with two standard size pillows. They may continue dressing the bed by adding square 60cm x 60cm or boudoir 30cm x 40cm pillows.
---
---
---