Hypnos Orthos Origins 5 Mattress - 150cm x 200cm King, STOCK
This listing is for a King 150cm x 200cm Hypnos Orthos Origins No 5 Mattress in Firm tension, available for immediate delivery. Please allow approximately 7 days delivery, sometimes quicker. The firmest in the Orthos Origins range, the single tension, turnable Hypnos' Orthos Origins 5 mattress provides a supportive sleeping environment that distributes weight evenly. Discover more about this deluxe design from one of the world's leading bed manufacturers. Read more

Available
Home Delivery
FREE 2 Man Delivery & Installation to all but the most remote mainland UK postcodes
Product Description
This listing is for a King 150cm x 200cm Hypnos Orthos Origins No 5 Mattress in Firm tension, available for immediate delivery. Please allow approximately 7 days delivery, sometimes quicker.
Hypnos presents Orthos Origins 5, the firmest mattress in its consciously crafted Orthos range. Ideal for those who prefer extra-firm support as they sleep, the single tension, turnable mattress is made with 1000 ReActive™ 5-turn pocket springs (in the 150cm size) which have been compressed to deliver a firm tension spring gauge. This highly resilient pocket spring unit distributes your weight evenly for a neutral spine position and ensures superior edge-to-edge support.
Crafted with both comfort and eco considerations in mind, Hypnos Orthos Origins 5 mattress comprises a blend of earth-conscious materials to form its sumptuously softresponsibly sourced upholstery layers. British wool from Red Tractor-assured farms forms the outer layers of the mattress, providing deep cushioning and natural breathability. Protecting the pocket springs are layers of eOlus™, a recycled polyester made from reclaimed plastic bottles. And finally, its cover is crafted from responsibly sourced, unbleached cotton and linen – a blend that gives the mattress a natural fire-resistant finish without the need for FR chemicals.
Each mattress is meticulously hand-crafted with two rows of side-stitching for a neat, tailored look. You'll also note the chrome vents for breathability and hand-finished wool tufts that help to secure the mattress fillings and prevent them from moving or going lumpy. Horizontal padded handles make moving the mattress a breeze.
To ensure the longevity and comfort of your mattress, turn and rotate it with the seasons.
The mattress height is 25cm.
This product comes with a 10-year guarantee.
Sustainability is integral to every Hypnos mattress. Its designs not only use 100% biodegradable, recyclable materials, but they also boast low-carbon production. In fact, the brand was the first of its kind to become carbon-neutral. Read more about Hypnos' sustainability initiatives here.
Please note that the Orthos Origins range is replacing the Orthos Elite range.
Specification
Brand: Hypnos
Made in the UK: Yes
Mattress Spring Type: ReActive™ 5-turn pocket springs
Mattress Upholstery Filling: 100% British Wool & eOlus™ recycled fibre
Mattress Borders: 25cm mattress height, 2 rows side-stitching
Mattress Cover: Cotton and linen chemical-free cover, 100% naturally fire resistant sleeping surface with hand-tufted wool tufts
Mattress tension / Support Level: Firmer
Guarantee: 10 Years
Mattress Care: Seasonal Turning


Why We Love The Orthos Origins 5 Mattress by Hypnos
Handmade in Britain, with a 10-year guarantee and a Royal Warrant to its name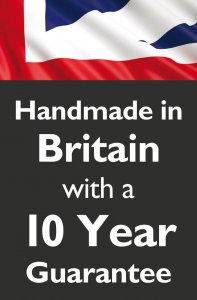 Combining British Craftsmanship with the finest materials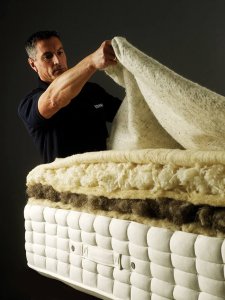 Hundreds of supportive pocket springs with genuine hand-side stitched borders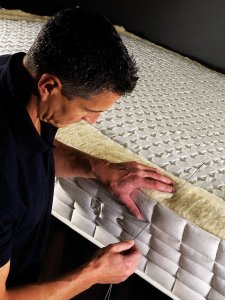 Our Delivery Service
Large Item (Beds, Mattresses, Headboards, Sofa Beds and Furniture) delivery:

Charges
We offer a FREE 2-man white glove delivery and assembly service as standard for all orders over £500 for mainland UK addresses, excluding the most remote parts of the Scottish highlands which will carry a small surcharge. For orders under £500, we ask for a small contribution of £25.
For non-mainland UK addresses including Northern Ireland and other UK islands we ask for a small contribution to the delivery charge, which will be calculated at the checkout once you enter your delivery address. For some very remote areas, we will display a message for you to contact our showroom so we can provide a quotation.
For Channel Islands and International deliveries, please contact our showroom, who will be able to discuss the delivery options with you and provide a quotation.


Our delivery and assembly service
We offer a 2-man delivery and installation service as standard on all large items to customers nationwide, using our in-house team or one of our specialist Delivery Partners. Our experienced delivery teams will carry your order to the room of choice (up to third floor as standard), where they will unpack and install the item and remove any packaging, leaving you free to enjoy your new bed or mattress.
We will contact you ahead of the planned delivery to agree a mutually convenient delivery date, most commonly between Monday and Friday although weekends are sometimes possible. The day before the delivery you will receive a 4-hour timed slot, so you know when to stay in to receive your delivery. On the day of delivery, our delivery team will call you when en-route to give you a more precise arrival time (unless you are the first delivery of the day). They'll also endeavour to keep you updated should they run into a traffic jam or get delayed by any unforeseen event. Once at your home the two-man delivery crew will carry the item to your desired room, assemble the item (where this service has been selected or is automatically included), and will remove any packaging.

Please do let us know at the time of placing the order if you have any restrictions or difficult access either inside the property or approaching the property, so we can look into the best solution for you.

If you would prefer a contact-free delivery service, this can be arranged. Please just let us know in advance.


Recycling your old bed or mattress
Should you no longer have a need for your old mattress or bed, we can remove and recycle this item for you (on a like-for-like basis) when delivering your new order. There will be a charge of £45 per mattress or £60 per bed for this service.


Access
Please ensure when placing the order that the item will fit into your home and there is sufficient access to your room, for example around a tight bend in your staircase or through a narrow doorway. If you are unsure, then our showroom will be more than happy to discuss the access with you. This way we can do all that we can to ensure the item fits in. We always try our hardest to find a solution.


Small Item delivery via Courier (Bedding & Bed Linen):

Charges
For smaller items such as bedding and bed linen, we charge a flat rate of £6.00 using a Next Working Day delivery service for all mainland UK addresses excluding the most remote parts of the Scottish highlands which will carry a small surcharge. For customers who spend over £100 on Brinkhaus bedding we offer FREE delivery.
For Northern Ireland and most other UK islands we charge a flat rate of £12. For the most remote postcodes and International addresses, we will display a message for you to contact us so that we can provide a quotation.
Service
Parcels will be delivered by a reputable, national courier and will require a signature on delivery, unless you request for the item to be left in a safe place or with a neighbour. In most instances, you will receive a text/email message on the day of the delivery (direct from the courier company) with a 1-hour timed slot. If that time slot is not convenient there will be various options on the message to leave in a safe place, deliver on a different day or leave with a neighbour, simply follow the instructions provided.
We deliver to all postcodes in mainland U.K., Northern Ireland and most UK islands (there may be some exceptions to the most remote postcodes). If you require delivery outside of this area including the Channel Islands and International Deliveries, please contact snuginteriors directly for more information.
Lead times
Our delivery lead times vary across our product range and are kept up to date and quoted in good faith on each product page.
Stock orders: We aim to dispatch all orders from stock on a 24-hour (next day) delivery service. For orders placed before 1pm, we will endeavour to dispatch on the same day. If the order is received after 1pm, it may be dispatched the following day.
In the rare and unfortunate event that we are out of stock of an item, we will notify you and will arrange for your order to be dispatched directly from the manufacturer to keep the lead time and carbon footprint to a minimum. We will update you on any changes to lead time if applicable.
If you have any queries regarding our delivery service or if you have a specific date to meet, please contact our showroom and we can advise you if that will be possible – you can be assured, we always try our hardest!
Delivery costs are applied per order, not per item, and will be added at checkout.
For International Orders, please click here.
Please read our terms and conditions for further information.
Hassle-Free Returns
We want you to have the best experience with snuginteriors and recommend us to all your friends and family, to do this you must be happy with your order. If for any reason you are not happy and you wish to return your goods, we ask that you notify us in writing within 14 days of receipt of your goods. This 14-day period begins the day after you received the goods.
Please ensure you keep your order in perfect condition. This means unused, undamaged and, where possible, in the original packaging with the labels in tact.

For small items, we will ask you to
send the item(s) back to us securely wrapped to avoid any damage in transit via a recorded mail service, including your order number and receipt.

For large furniture orders, we will arrange the return/collection of the goods. Please note you will be charged collection for the item(s), unless it is faulty.
For hygiene reasons, mattresses, bedding and bed linen can only be returned if they are in their original packaging and have not been opened, or used in any way. Try the mattress with the packaging on to be sure you are happy first!
We regret that we cannot cancel, refund or exchange a bespoke order that has been specially made for you (unless faulty). Read our full terms and conditions
here
.
People who bought this also bought...
Frequently Asked Questions
Mattresses

Does spring count matter in a mattress?

Yes, to a certain extent. First and foremost is the quality of the pocket spring. You want a high quality pocket spring providing progressive support - this is the engine of your mattress. Once you have this, you can compare spring count, and so long as the springs are comparable in quality, as a general rule of thumb the higher the number of pocket springs in the mattress, the more supportive the mattress. Some manufacturers will try to inflate spring count by using thousands of mini springs, however these do not provide the same level of support as a full size spring, so whilst there may appear to be more pocket springs, the level of support will not be as good.

How do I know if I should buy a softer or firmer bed?

The mattress tension is normally determined by your body shape and weight, together with the feel you find most comfortable.

Generally, a heavier frame suits a firmer mattress with a more supportive spring. A lighter frame needs a softer spring so that the body's weight can properly engage the spring and get the support it really needs. If a spring is too firm for the body's weight, the person will just be lying on top of the mattress and not getting the full benefit.

"Firm or orthopaedic is best for my back" is a common myth. Instead what is right, is the correct level of support for your body weight. This doesn't need to be rock solid! Even with a firm spring you can still have added softness from the layers of upholstery in the mattress.

A correctly supporting mattress will see your spine lying straight. If the mattress is too soft, your spine will bow downwards. If it is too firm, it will bow upwards.

If a couple shares the bed, it is important to consider the different weights and shapes of both people, however, depending on the mattress size you are choosing and whether or not a combination tension is available, you will need to be guided by the weight of the heavier person. A mattress topper can always be added if the lighter person then requires more softness.

A simple test to find the best tension for you:
Slide your hand beneath the small of your back and the mattress. If it slides in too easily, the mattress is too firm. If it has to be forced under, it is too soft. It should be a snug fit. If you like to nestle into the mattress then we would recommend going for a softer tension or one with lots of generous upholstery.

Why is a pocket spring mattress better than an open coil mattress?

A pocket spring mattress is made up of thousands of individual springs nested in cotton pockets and hand laid in a honeycomb pattern. Each individual pocket spring works independently and reacts according to the weight that it receives, delivering a high level of support to the body as the springs are able to closely contour the body's shape and weight and provide progressive support.

An open coil mattress is a traditional spring type made from a continuous piece of steel and forms one large spring. It is a very hardwearing spring type but it is not able to react in the same way as pocket springs, where each independent spring can adjust to the different weight and shape of the body. The open coil spring does of course react to weight but a much larger area of spring is forced to move when put under pressure and the spring cannot contour the shape of the body so closely, so the level of support is not comparable.

Is a firm or orthopaedic mattress better for my back?

No, this is a common misconception. What is important when buying a new mattress is that you get a good supportive mattress to suit your bodyweight. This can still include soft layers of upholstery for excellent comfort.

If you choose a mattress that is too firm for your bodyweight, you will not be able to engage the springs and get the full benefit and support of the mattress, instead you will simply be lying on top of the mattress. Equally, if you are buying a mattress that cannot support your bodyweight, you will be crashing through the mattress and again not getting the correct support to suit you.

The mattress tension will normally help guide your choice, together with an individual's preference to a firmer or softer feeling mattress, their age and any previous back problems. For instance, an elderly person may prefer a firmer mattress as they may find it easier to get up out of. Whilst a lighter weight person may prefer a finer gauge (soft spring) so that their body has more support and more contact points with the mattress.

It is also important to consider the base you are putting the mattress on and how this might alter the feel of the mattress.

By getting a mattress that is tailored to suit you, such as a pocket spring mattress that will respond to your body's shape and weight, you will get a much higher level of support and excellent comfort.

Here at snuginteriors, we are bed specialists, and our team are highly experienced and well trained to advise our customers on the best mattress to suit them, so if you would like any help in choosing your next mattress, please do not hesitate to give us a call.

What is a combination tension mattress?

A combination tension mattress is a one-piece mattress offering two tensions on the left- and right-hand side of the mattress. They are available on selected mattress models in king size and above. They are designed to suit couples with differing body weights, allowing the lighter person to go for a softer tension and the heavier person to go for a firmer tension. This gives a better level of support to the two differing bodyweights and ensures greater comfort. There is no additional charge for choosing a combination tension.

It is not possible to have a combination tension in a double sized mattress, this is because there is not enough space to have two different tensions. In this case, you will need to select the mattress tension that best suits the heavier weight person so that they are adequately supported, and you do not roll into each other. You can then consider adding a mattress topper for additional comfort for the lighter weight person.

What is a zipped mattress?

A zipped mattress is a pair of mattresses joined together with a zip to make a larger one piece mattress, such as a pair of 90 x 200cm mattresses to create a one piece Super King 180 x 200cm. They are most commonly associated with Super King sizes and above and are popular for three reasons:

1) to allow people to separate the one piece mattress into twin mattresses (often zipped mattresses are paired with linked divan bases which can also split into two and provide twin beds.

2) They are a great option when somebody is looking for a larger size mattress but they have access issues getting a one piece mattress to the room of choice.

3) Turning two smaller mattresses is much easier than turning the weight of a very large and heavy one piece mattress. Regular turning of mattresses ensures even usage and helps customers get the most out of the mattress for the long-term.

Should I buy a one-piece super king mattress or a zipped super king mattress?

The main thing to consider when choosing between a one-piece or zipped mattress is whether the one-piece mattress will fit into your property. A one-piece super king mattress is very heavy, and whilst it will bend around a corner, it will not bend in half, so we advise you to double check all measurements from the front door to the room of before ordering, to save any disappointment later down the line when it comes to your delivery.

A zipped super king mattress is an excellent choice if access is tight or if you are not able to turn the weight of a one-piece mattress. Having the mattresses made in two pieces makes turning much easier and therefore makes us much more inclined to do so, which really helps look after the mattress for the long term.

Having zipped mattresses allows each individual partner to choose the correct tension to suit them, and if somebody is particularly conscious about feeling their partners movements, zipped mattresses are going to ease this concern as they are separate mattresses.

Something to bear in mind is that a one-piece mattress will always feel slightly softer than zipped mattresses (made in the same tension), as the mattress borders are further apart.

What is the difference and/or benefit between a no-turn mattress and a double-sided mattress?

A no-turn mattress only has upholstery on one side of the springs, therefore resulting in one sleeping surface. These mattresses can only be rotated and therefore make for easy maintenance. They are a great choice if you know you do not want, or are not able, to turn a mattress. To care for a no-turn mattress and get the best out of it, we do still recommend (if possible) rotating a no-turn mattress, ideally regularly during the first three months, and with the seasons thereafter.

A double-sided mattress has upholstery on both sides of the springs, therefore resulting in an enhanced, deeper level of comfort and two sleeping surfaces as the mattress can be turned. We do feel this gives the very best comfort and would recommend a turnable mattress if you are able to do so (or able to ask somebody to help). If you do not turn a turnable mattress you will still get excellent comfort but will only benefit from one sleeping surface and cannot get such an even usage of the mattress, which helps with life span of a mattress.

Does a mattress feel different on a slatted or solid divan base versus a sprung divan base?

Yes, a mattress will feel softer when paired with a pocket sprung or open coil sprung divan base, compared to a slatted base or solid platform top divan base. This is because you are getting additional support and upholstery from the base. The springs in the divan base will work in unison with the mattress springs, allowing your shoulders and hips to nestle further into the mattress ensuring the narrowest parts of your body also get the support they need.

Putting a mattress on to a slatted or solid base will make any mattress feel firmer and means the mattress has to work harder to provide all the comfort and support as the base is solid. If you are putting a new mattress on this type of base, you may want to consider buying a higher specification mattress for a more luxurious feel.

Please note, that whilst a sprung slatted base (where you can see an arch or bow to the slat) has a little movement, it will still provide an overall firm base for the mattress to sit on. The same mattress would feel firmer still on flat, solid slats.

Why is hand-side stitching important on a mattress?

Hand-side stitching is a process used in the traditional, luxury handmade mattress manufacturing process and ensures structure and additional support to the edges of the mattress. It means that you can sleep right up to the edge of the mattress and still feel well supported, without feeling like you are going to roll out of the bed.

Machine side stitched borders give a faux hand-side stitched appearance, but do not give any additional structure or support to the edge of the bed. You can see this when you lie on the bed as the border often billows and puffs out from the expelled air.

What is a mattress tick?

The mattress ticking is the outer fabric cover used on the mattress and creates your sleeping surface. All of our mattresses are made using chemical free mattress ticking for a clean, healthy sleeping surface.

What are mattress tufts and why does a mattress have tufts?

A mattress tuft is often a small and round disc that can be made from wool or felt. They are used in the traditional hand-made mattress manufacturing process to help keep the deep layers of mattress upholstery fillings in place either side of the pocket springs. The mattress tufts are deeply sewn into the mattress and create even, uniform undulations across the mattress. It is a sign of a high quality, well-made mattress.